Story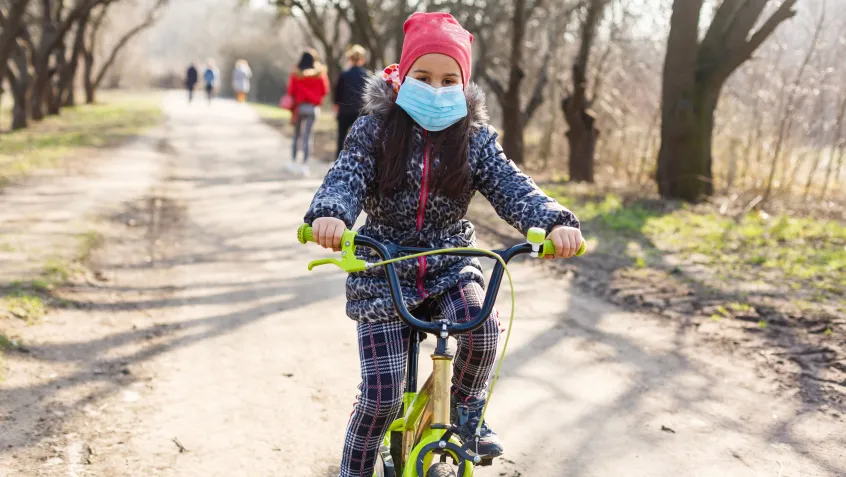 In the past few weeks, you may have noticed more cyclists than usual now that there's less vehicle traffic due to the COVID-19 pandemic. With cities in lockdown and stay-at-home orders still in effect in many places, hopping on a bike provides the perfect cure for cabin fever. Plus, it's a great way to safely spend time outside, enjoy the fresh air, and get some exercise.
Every May, the League of American Bicyclists promotes National Bike Month, making this the perfect time to dust off your bike and explore your community. If you need extra convincing to hop on two wheels, it might help to understand how biking benefits your health and the environment.
According to Harvard Medical School, biking builds muscle, provides an aerobic workout, helps with everyday activities (think balance, endurance, and stair climbing), increases bone density, and it's easy on your joints. Plus, biking burns calories, decreases stress levels, and helps reduce anxiety and depression—just the mental relief your mind could use right now.
As for the environment, biking means less pollution because you're using your bike for transportation instead of a gas-powered vehicle. Not only does biking reduce carbon emissions by lowering fuel consumption, it also decreases traffic and noise pollution. On a related air quality note, as people all over the world have changed their behavior to mitigate the spread of COVID-19, there have been some subtle effects on the environment—including cleaner air. (If you live with asthma, have you noticed fewer symptoms with the improved air quality?)
If you're just getting back into biking, make sure your bicycle is in good working condition. Make sure your tires have air, test your brakes, and check your chain and gears. Start with a short ride around your neighborhood to test your balance and slowly build your endurance.
Don't forget to keep yourself safe when riding your bike. Wear a helmet to protect your head and wear sunscreen to protect your skin. On bike trails, keep to the right, pass on the left, and stay six feet away from other cyclists and pedestrians. On roads, obey all traffic signals and stop signs, and make sure you're riding with (not against) traffic in the right-most lane or designated bike lane. For more safety pointers, check out these Smart Cycling videos.
Topics