Story
Tips for Organizing a Beach Clean-Up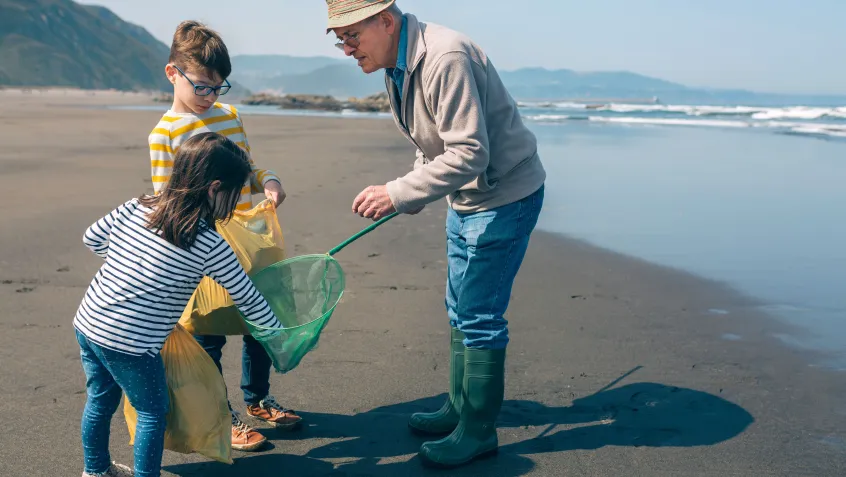 Headed to the beach this summer for some sun and surf? Make sure it's a safe, healthy place to visit by spearheading a beach clean-up.
In 2007, the United States Senate and House of Representatives passed the National Clean Beaches Week Resolution to recognize the value of beaches to the American way of life and the important contributions of beaches to the economy, recreation, and natural environment of the United States.
Clean Beaches Week, celebrated annually in July, offers the perfect opportunity to encourage stewardship and volunteerism along our coastlines. But where do you even begin? Follow these tips to get started.
Identify a clean-up site. Choose a place that needs some TLC, making sure that volunteers can safely access the site. Get permission, if needed, for your clean-up event, perhaps from the local parks agency.
Choose a site coordinator. (That might be you!) A beach clean-up takes a lot of work and needs an organized person to keep everything on track before, during, and after the event. You can use NEEF's NPLD Site Manager guide for best practices for organizing volunteer events.
Visit the site in advance. The coordinator will need to know where to set up a volunteer check-in station, where to leave trash and recyclables, and what area(s) volunteers will clean.
Gather supplies. Depending on your location, you'll need supplies such as trash bags, a first aid kit, hand sanitizer, wipes, and large coolers of water. You should also provide (or ask volunteers to bring) items such as reusable work/garden gloves, reusable water bottles, sunscreen, and bug spray.
Plan how to handle the recyclables. Reach out to recyclers in your area (and perhaps your community's solid waste departments) to make arrangements for accepting any glass, plastic, and aluminum that you collect.
Line up event partners. Contact local businesses for donations of drinks, food, and supplies. Ask a local solid waste hauler to donate their services for trash removal.
Plan for handling hazardous waste. Determine how you'll dispose of any medical and sewage waste you might find. One solution: A wide-mouth container with a tight-fitting lid, such as an empty laundry detergent bottle. Clearly label that it contains hazardous waste.
Get volunteers to help. Recruit friends, family, co-workers, and neighbors. Create an event on Facebook and ask volunteers to sign up online. This will give you an idea of how many people to expect and will help communicate event details.
Track your trash. Become a citizen scientist with the NOAA Marine Debris Tracker App. Submit your location and findings to contribute to this global data collection. 
Stay safe. Be prepared for a variety of health emergencies, from minor cuts and scrapes to heat stroke.
Take photos! Post pics online to share the success of your event and recognize volunteers for their hard work.
Topics