Story
How to Make Your National Public Lands Day Event Accessible to All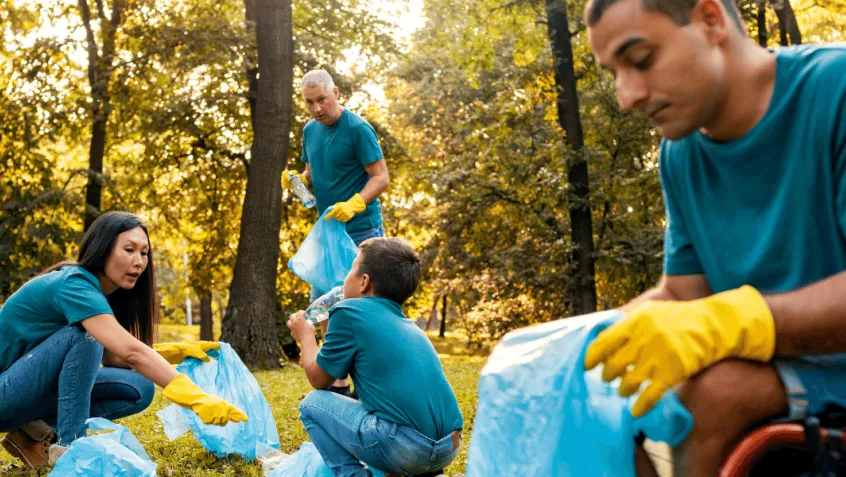 This year marks the 30th annual National Public Lands Day celebration on September 23, 2023. This year's theme is "NPLD: 30 Years of Care and Community," and celebrates the united efforts in caring for our nation's public lands. From humble beginnings to a nationwide event, NPLD continues to inspire participation and engagement. NEEF's commitment to inclusivity ensures everyone can actively contribute to their local public lands, fostering a brighter future together.
Our webinar series, Nature of All: Engaging Underrepresented Communities in the Outdoors, hosted a range of discussions with several of NEEF's DE&I partners: Corazón Latino, Disabled & Outdoors, and the U.S. Department of Arts and Culture. Through these conversations about inclusion, NEEF has gathered some tips on how you can make your NPLD event more inclusive.
Learn More

About Your Public Lands and Community  
A good first step to take towards making your event more accessible is to learn more about your local land and community. The history of public lands often tells a story that not only connects community members but also adds greater meaning to the service you are providing to those lands on NPLD.  
Learning about the history of your local public lands means understanding how its relationship to people has changed, which is why some Site Managers choose to open their event with a land acknowledgment to recognize the land's Indigenous history. You can investigate which Indigenous tribes were the original stewards of the land in your community by visiting nativeland.ca and through local records and resources.  
Plan

Activities for All 
Volunteers' comfort levels with certain activities can vary depending on age, ability, equipment needed, and knowledge. To ensure everybody who wants to attend your event feels comfortable, it is helpful to consider how your planned activities will translate across various backgrounds of people. A terrific way to plan with diverse backgrounds in mind is to include people from those diverse backgrounds in the planning process! Co-creation can ensure that the experiences you have planned for NPLD are truly inclusive. 
In our conversation with Ambika Rajyagor, co-founder of Disabled & Outdoors, she mentions that people with disabilities are historically underrepresented on public lands, even though the outdoors is supposed to be open to all. People with disabilities often face additional economic and social barriers that prevent them from visiting and enjoying public lands. Along with this, be conscious that distinct cultures and communities enjoy nature in different ways, so planning a wide range of activities can help ensure everybody feels welcome and able to attend.  
For example, during one of NEEF's previous NPLD signature events at Rock Creek Park in Washington, DC, an ADA-compliant activity—painting and building a bee hotel—was set up near the kickoff location, which made it more accessible for people with disabilities. These activities were promoted before as well as during the event, so community members of all ages and abilities were aware that they could participate, fostering an inclusive atmosphere for volunteers.
Here are just a few ideas for inclusive activities during your NPLD event: 
Hiking, biking, yoga, or dancing for those who want to get active 
Entertainment like

live music

can be enjoyable for people of any ability level 

 
Work on a conservation project or engage families in citizen science work 
Plan a scavenger hunt, go bird watching, or

meet a scientist

 
Understand Common Barriers to Entry 
Things like cost, transportation, and language barriers can impact who is able to attend your event. NPLD is a Fee Free Day, meaning admission to federal public lands across the US is free on September 23..  
As a Site Manager, ensuring that adaptive equipment is available at events where they are needed can be especially important in breaking down barriers for the Disability community. Learn more about how you can include community members by reaching out to local Disability community organizations and inclusive outdoor groups.  
Think about how people will get to your event. Is your NPLD site close to public transportation? Can you help your volunteers coordinate a carpool system, or are you able to provide them with a shuttle or bus service? Have a transportation plan in mind and communicate pick-up/drop-off locations, parking information, and a schedule so volunteers can plan ahead.  
Think about who is attending your NPLD event—if you are expecting families, make sure you plan activities that everyone can participate in. If some volunteers speak a different language, think about providing interpretation resources or other support to break down language barriers.  
Marketing Your Event 
Marketing plays a key role in who hears about your event and decides to attend. Two ways to promote events using accessibility-friendly marketing are:  
Including captions on video and photo material 
U

sing

alternative

(alt)

text descriptions 
When using a visual post to market your event, alternative text can help describe that visual post and play an audio description for those who are visually impaired or anyone unable to view your marketing media.  
When marketing to communities that speak a different language, try not to rely on simple translations of your existing marketing tools. Instead, use signage that is culturally relevant and linguistically appropriate to the community you are trying to reach.  
By catering your messaging to a specific community, you can better communicate the details of your event. For example, some groups may prefer to focus on environmental stewardship, while others might emphasize spending time outdoors with loved ones. 
Inclusion as a Long-Term Investment 

 
Understanding your community's needs is an ever-changing process. Felipe Benítez from Corazón Latino emphasizes that it takes time to foster community relationships and, ultimately, inclusion is a long-term investment. He encourages Site Managers to continue to reach out to local organizations and be prepared to support partnerships through reciprocity and consistency.  
It will take trial and error to figure out the best ways to make your events as accessible as possible, but it is helpful to acknowledge that you are learning like everybody else. Inclusion is an enduring practice that will continue to change, so the best thing to do is continue to research, have important conversations, and create meaningful experiences.  
NEEF Planning Resources
Developed in partnership with the National Park Service and the US Forest Service, NEEF offers engagement guides that cover key strategies for planning and executing successful outdoor events, each has a specific focus - accessibility, environmental education, or health and wellness. They are free to download.
Have Fun! 

 
Never underestimate how similar we all are. We may have varying reasons for volunteering on NPLD, but we all want to have fun while giving back to our local public lands! Play music, make friends, learn something new, and continue to ask questions.  
If you need help getting started, check out our Site Managers Guide for more information. See you on National Public Lands Day! 
Updated July 26, 2023.
Topics