Story
5 Ways to Have a Green Halloween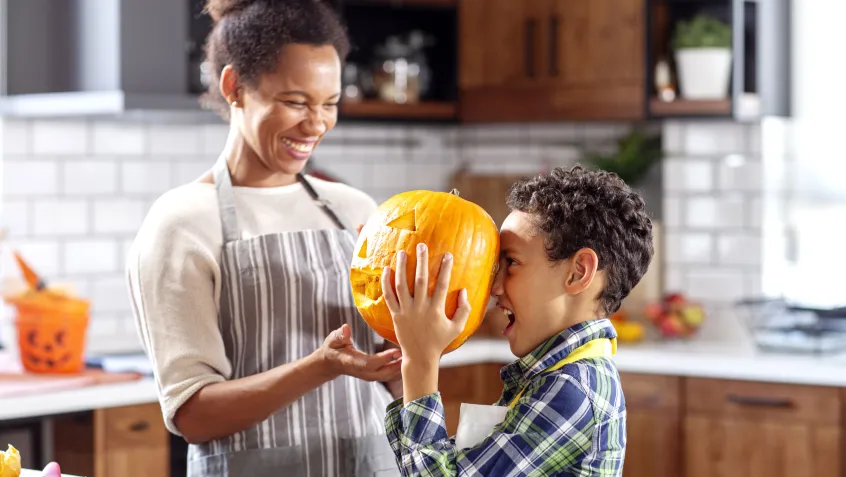 The pandemic put Halloween on hiatus. However, many of the adaptations we made are still useful and provide opportunities to green-up this haunted holiday in the process. Halloween, traditionally, produces a lot of waste, from "fun-size" candy wrappers and single-use trick-or-treat bags to store-bought costumes and throw-away pumpkins. How can you transform your Halloween into an eco-friendly holiday this year? Try these ideas.
Get crafty with costumes
While little ones love trick-or-treating, this door-to-door tradition of visiting neighbors for treats may have morphed into something that involved less close contact. Even if you are venturing out again this year, you can also hold a family costume party instead, or organize a  kids costume parade through your neighborhood.
No matter what you do, take a greener approach to dressing up. Instead of buying a store-bought costume, repurpose items you already own. From old bedsheets, cardboard boxes, and PVC pipes to hats, cowboy boots, and soccer uniforms, get crafty with your own stuff.
Not sure what to make? Just Google "DIY Halloween costumes for kids" for some amazing, creative ideas. .
Make homemade treats
Rather than buy individually wrapped candy—which produces a lot of trash—make your own treats. In addition to being more eco-friendly, homemade treats give you the chance to ramp up the health factor.
Go retro and make caramel apples rolled in crushed peanuts. Whip up a batch of warm, fresh granola bars loaded with oats, nuts, and seeds. Make healthy popcorn balls, chocolate-covered strawberries, or peanut-butter energy bites. You'll also find plenty of Halloween-themed healthy food ideas online such as edible eyeballs (hard-boiled eggs), veggie skeleton, monster teeth (apple slices) ghost fruit kabobs, and more.
Less waste and more nutrients equal a big Halloween win!
Cut the lights
Create a spooky atmosphere and save energy by turning off the lights and using candles instead. (Use caution around pets and children.)
If you'll be walking around outside, create a homemade lantern instead of using batteries. Not only can this serve as an energy-efficient lighting option, but it can be a fun family project that teaches kids how to repurpose items in your household.
Don't toss those pumpkins!
For starters, buy locally grown pumpkins, which reduces emissions from transporting pumpkins from afar. Whether you decorate your pumpkin with markers or carve out a jack o' lantern face, don't throw the pumpkin away after Halloween.
Rich in vitamins A and K, pumpkins can be transformed into delicious breads, pies, muffins, soups, and other healthy goodies. Whatever you don't use in the kitchen, simply compost the remaining bits and pieces to keep "jack" out of the landfill. According to the EPA, food scraps and yard waste make up more than 28% of what the average household throws away.
Slay the "energy vampires" and "phantom loads"
In the spirit of Halloween, eliminate the energy vampires and phantom loads that lurk in your home all year. Energy vampires are devices and appliances that are plugged in and continue to suck energy (a.k.a. phantom loads) even when they're not being used. Think DVRs, printers, and even phone chargers.
According to EPA Energy Star, if 100 million Americans unplugged—or at least turned off— electronics when not in use, we could collectively save 12 billion kilowatt hours of electricity and prevent more than 18 billion pounds of carbon pollution. That's a savings of more than $1 billion on consumer utility bills!
Topics