Story
Trail Access Project Conquers New Terrain with NEEF Grant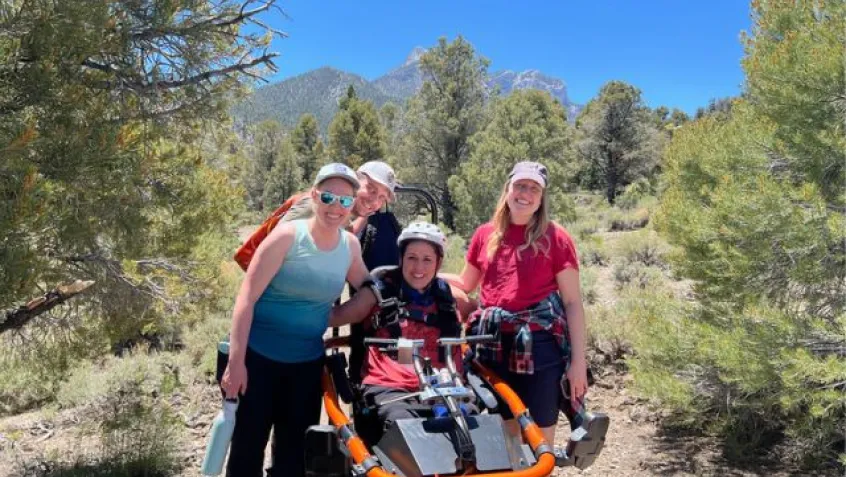 It's a beautiful late-April afternoon in Nevada's Spring Mountains, rising more than 11,000 feet above the glittering desert metropolis of Las Vegas in the valley below. The smell of pinyon pine and juniper is amplified by the crisp mountain air, and the ground still shows some traces of the record snowfall experienced by much of the West earlier in the year.
The Sawmill Trail, a meandering singletrack normally full of mountain bikers, is surprisingly empty, making it the perfect location for a test drive. The stillness of the day is cut by the crunching of pine needles under rubber tires, the soft whine of an electric motor, and the squeals of delight from the vehicle's pilot.
"This is so unnatural for someone who uses a wheelchair!" Angel Frechette shouted to her fellow hikers. "You're told to avoid these areas!"
Strapped into the TerrainHopper, she quickly descends a shallow gully and passes her friends on the trail, picking up speed along with confidence.
"I'm taking this all the way to Zion!"
Witnessing the Wonders of the World in a Wheelchair
According to the Centers for Disease Control and Prevention, 27% of adults in the US have some type of disability, with roughly half of those impacting mobility. The National Park Service estimates that a minimum of 28 million visitors with disabilities visit national parks annually, not including the friends and family members who accompany them.
Frechette was born with a physical disability and has used a power wheelchair since she was nine years old. Growing up in a military family, she moved around several times before coming to Las Vegas for high school. Not one to let her disability define her, she spent much of her childhood outdoors, going hiking, surfing, and ice skating. Also, she explained with a note of pride she once rode an elephant.
"I learned the importance of taking care of myself physically and mentally, possibly more so than an able-bodied individual, because of the challenges that I already faced on a consistent basis and the amount that I might need to rely on caregivers," said Frechette.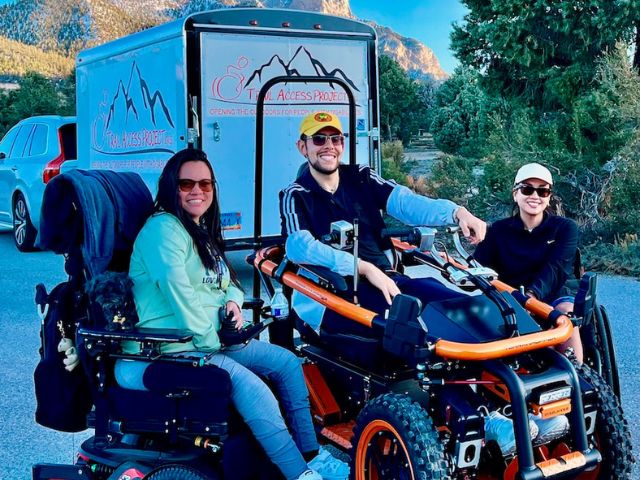 However, as she got older, she found it increasingly difficult to stay active. She resorted to more accessible activities like riding in charity fun runs on the Vegas strip, but it was a far cry from elephant riding.
"It was just so boring," said Frechette. "Going out in nature on a bad day is the perfect medicine, but that's not the same as being on a sidewalk where there's dog poop bag dispensers and trash cans."
She first heard about the Trail Access Project while working as an outreach coordinator at the Driven Neurorecovery Center, a Las Vegas-area clinic for patients with mild to severe physical disabilities. She saw it as a great opportunity to help get her patients outdoors in an accessible and welcoming environment.
"I thought, 'Oh, this is perfect, they can handle all the logistics of the actual trails, and I can get the people there,'" said Frechette. "Now, some of the most regular attendees to Trail Access Project events are clients from Driven."
Removing Barriers for Hikers with Physical Disabilities
Dr. Ed Price founded the Trail Access Project in 2015, thanks to a federal grant administered through the Nevada State Parks system. Diagnosed with polio when he was just three years old, Dr. Price always walked with a limp, but that did not stop him from working most of his career as a field geologist, including as a professor of geology and environmental science at Nevada State College for 11 years.
However, while he could still do field work, he began to notice that his legs were getting weaker—a condition known as post-polio syndrome. Toward the end of his career at Nevada State, he found he could no longer keep up with the students outdoors.
"I'd walk with two poles, two canes, but then I had to move to a wheelchair because I fell a lot," said Price.
Like Frechette, he did not let this new challenge keep him from getting outside. But he found it was much more difficult to access the parks and places he had been to before now that he used a wheelchair.
"I got interested in finding more accessible trails, but around [the Las Vegas area], the trails are all on federal property," said Dr. Price. "I went to look at the accessibility of these trails, and I started talking with the property managers, like, 'Hey, can we fix this?'"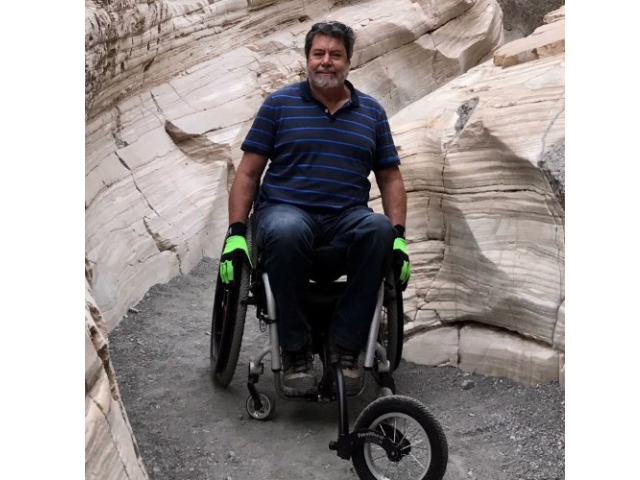 With the Trail Access Project, Dr. Price aims to help people in the Las Vegas area with physical disabilities have safer, more meaningful experiences outdoors. This process takes many forms, including maintaining a crowdsourced list of adaptive hiking trails across the country, hosting hikes and other outdoor events for people with physical disabilities, and working with land managers at parks in southern Nevada to improve their accessible trails by providing information such as grade, cross slope, and potential obstacles.
"That kind of information is important," said Dr. Price. "It needs to be posted on trailhead signs so someone can see that information and decide if that trail would be useful for their enjoyment and safety. If they see a trail grade is maximum 12%, they may know they can't get past that in a manual wheelchair. Those kinds of things are barriers."
The Long and Bumpy Road to Building Accessible Trails
Dr. Price has worked with land managers at the National Park Service, US Fish and Wildlife Service, and Bureau of Land Management, and each one has told him the same thing.
"In general, everyone I've talked with at the federal agencies around here wants to increase accessibility to trails," he said. "They just don't know how to do it, or what people might be looking for."
In recent history, federal land management agencies have worked to make the public lands they care for more accessible for visitors of all ability levels. The National Park Service completed a five-year Accessibility Strategic Plan in 2020 to make trails and facilities at America's national parks more accessible and enjoyable for people with disabilities and their families.
Dr. Price believes that while most land managers want to help, the process of building new accessible trails is complicated and time-consuming. Even if a good working relationship is established, that point of contact could be transferred to another park somewhere else, and the process must start all over again.
Inconsistent messaging is another common obstacle for hikers with disabilities. Some parks categorize trails as "easy, moderate, or difficult"—but that type of generalization can leave out groups with physical disabilities.
"I ask them, 'What is easy?' And they show me a picture and say I might have to step over a boulder. Well, a single step is a barrier for someone in a wheelchair. That's as far as we can go—unless we're using something like the TerrainHopper."
NEEF Grant Helps Increase Access to Nature for People of All Ability Levels
In 2022, NEEF partnered with Toyota Motor North America to establish the Driving Mobility and Accessibility on Public Lands Grant. Using funding from vehicle sales of the Toyota Sienna Woodland Edition and RAV4 Hybrid Woodland Edition, NEEF has awarded $650,000 to date in grant sponsorships to organizations across America working to address mobility and accessibility considerations on public lands and waterways.
Dr. Price had been looking for a source of funding to help the Trail Access Project add an assistive mobility vehicle to their fleet, and NEEF's grant provided the perfect opportunity. While at a trade show in Phoenix, he saw a demonstration of the TerrainHopper, an electric, four-wheel-drive assistive vehicle that looks like a power wheelchair crossed with a dune buggy. As it was narrower and nimbler than a standard track chair, Dr. Price saw its potential for tackling the rocky terrain that had stood in his way since he began using a wheelchair.
After speaking with the company's owner, they agreed to custom-build a TerrainHopper for the Trail Access Project, as well as fund the remaining cost of the vehicle not covered by NEEF's grant through their Hoppers for Heroes program.
While waiting for the vehicle to be delivered, Dr. Price worked with the USDA Forest Service to find a suitable trail for testing. Due to the significant snowfall that winter, as well as restrictions on where "other powered" vehicles could be used, they settled on the Sawmill Trail, a mid-elevation mountain bike trail in the Spring Mountains National Recreation Area.
So, they had their vehicle, and they had their trail. All they needed now was a willing test pilot—and Dr. Price knew just the person for the job.
Rolling into the Unknown
Angel Frechette didn't know what to expect when she met Dr. Price at the trailhead.
"I wasn't familiar with the Sawmill Trail," she said. "I assumed it was going to be some little paved area with a few trees around. Still, I was looking forward to it."
After her boyfriend helped lift Angel into the TerrainHopper and buckle her in, Dr. Price and the other hikers led her to the edge of the pavement. At first, she couldn't believe what was happening.
"[Dr. Price] said, 'Yeah, you're gonna go down that way.' And I was like, what?" said Frechette. "For anyone who can walk, they might think it's a normal hiking trail, but for someone who's never gotten to experience that, it was like I was entering the jungles of South America," she said with a laugh.
While a Trail Access Project staff member filmed this historic event, Frechette timidly piloted the vehicle down a short—but steep—rocky grade. The experience, while strange and scary at first, soon morphed into one of pure epiphany.
"It felt like the air was new," she said. "It took a minute or so to get comfortable, but once I did, I was soaring."
Adaptive Hiking Connects People to Nature—and Each Other
In the months since that first successful test drive, demand for the TAP's TerrainHopper has skyrocketed, especially among patients at Driven NeuroRecovery. And subsequent trips have yielded helpful feedback from users on everything from the style of foot and leg tie-down straps to the material on the vehicle's joystick.
While Dr. Price said he has been thrilled with the popularity of the TerrainHopper so far and how it has opened up more places for his clients to explore, ultimately, he wants there to be more accessible trails where people can use their own wheelchairs or mobility devices.
"After that first hike with Angel, she asked, 'Where can we go next?' And my comment was, we've run out of accessible trails here in the valley," he said. "I've been called out to Red Rock [Canyon NCA] two or three times this year to discuss trails out there, and I think it's working, but it's slow."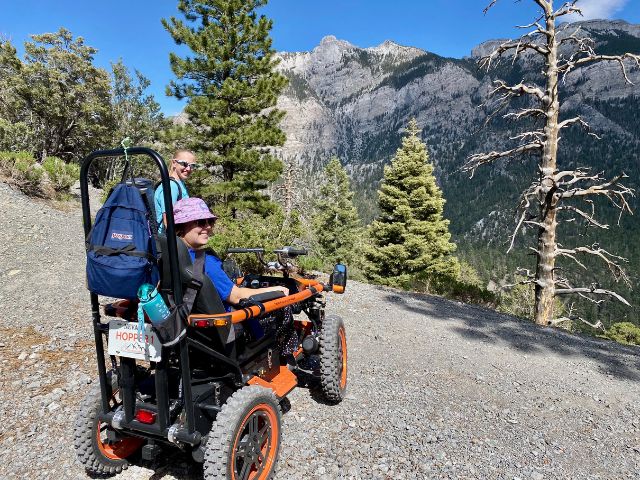 Frechette, who recently accepted a position on the Trail Access Project's board of directors while she pursues a master's degree in language pathology, believes assistive devices like the TerrainHopper will absolutely motivate more people with physical disabilities to get out in nature.
"It's a whole new reason to live," she said. "It's encouraged me to eat healthier and be more physically fit because even though you're sitting in this thing, you still need to keep yourself steady."
Most important, she said, is the benefit it has had for her loved ones.
"My partner and I have been together for five years, and it's very hard for us to find things to do for fun outside of going to the movies or shopping. You lose all these opportunities to be able to connect," said Frechette. "Just being able to access more trails, whether it's with the TerrainHopper or not, it's so rejuvenating."
Topics