Story
The Heart of Memphis Celebrates National Public Lands Day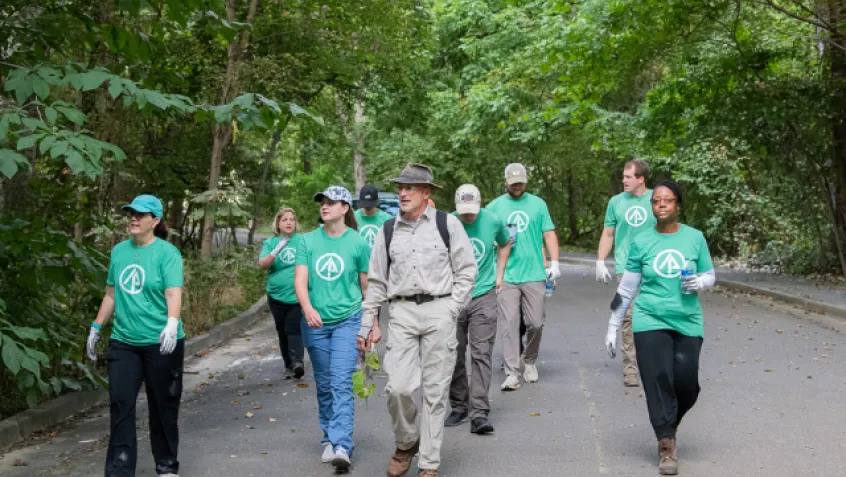 A Park for The People
Some public lands are special because of the natural wonders they protect. Others have historic significance. Overton Park is a unique combination of both. 
Image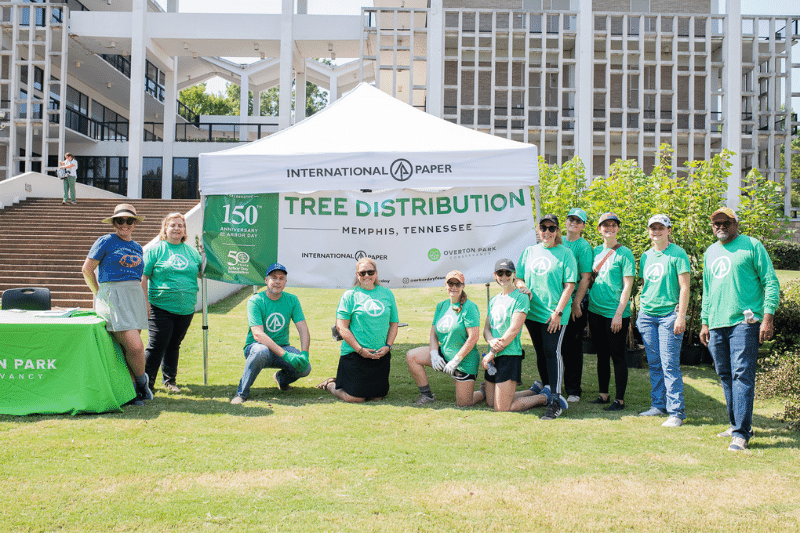 The 342-acre park is considered by many to be the geographic and spiritual heart of Memphis, Tennessee. It is home to the only urban old growth forest in the southeastern United States and has been witness to pivotal moments in the civil rights and environmental justice movements.
"Overton Park's forest is a haven for wildlife and a carbon sink reducing the impact of greenhouse gas emissions—a literal lung for our city," said Kaci Murley, Overton Park Conservancy deputy executive director. "It is a place for Memphians to connect with nature for free, 365 days a year."
NEEF partnered with Memphis-based International Paper (IP) to create an event where employees could give back to this park that gives so much to the city in celebration of National Public Lands Day 2022, the largest single-day volunteer effort for America's public lands. 
"Overton Park is one of International Paper's longtime community partners. Their work to preserve and keep the park beautiful and welcoming to all Memphians is an incredible asset to our community" Rachel Ozols Purdom, International Paper Community Engagement Coordinator
"Overton Park is one of International Paper's longtime community partners. Their work to preserve and keep the park beautiful and welcoming to all Memphians is an incredible asset to our community," said Rachel Ozols Purdom, International Paper community engagement coordinator. "Their team's all boots on the ground' mentality and passion for Overton Park is why we chose to celebrate National Public Lands Day volunteering in the Old Forest." 
Image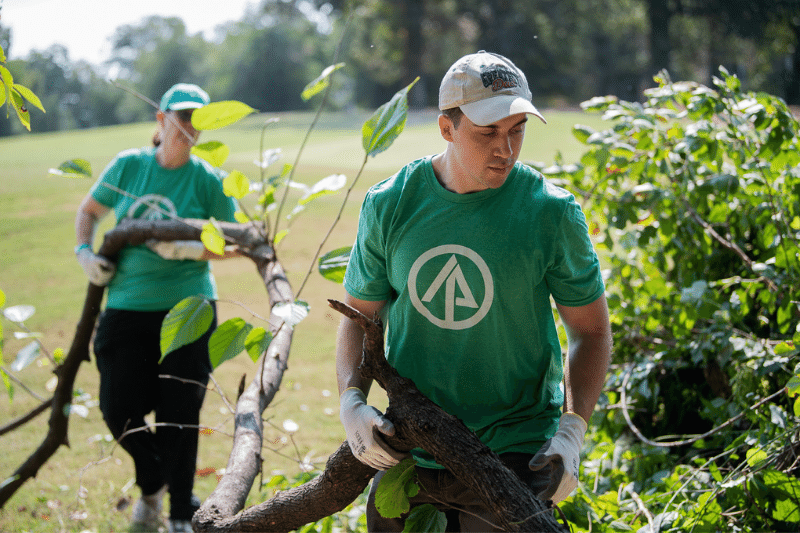 New Trees in An Old Forest
Fifteen volunteers spent the morning removing invasive species from a section of the Old Forest State Natural Area's edge that is located along the "Overton Park 9," one of the oldest golf courses in the country. The course was recently redesigned, providing an opportunity to expand the forest.
As they worked, volunteers learned about the "why" behind the clean-up from conservancy director of operations Eric Bridges, who is pursuing a PhD in urban forestry and is well-versed in the park's ecology. Later this year, about 20 new trees that make up the forest's canopy—such as red oaks and tulip poplars—will be planted in the area volunteers cleaned up.
In the afternoon, volunteers distributed 250 trees of various species that are native to the Memphis area for community members to take home and plant in their yards. Support from the Arbor Day Foundation and International Paper made the tree giveaway possible. 
"We asked a lot of our volunteers! They worked all morning in the dirt and then quickly turned around and put smiles on their faces to give away trees to the community," said Murley. "But as always when working with International Paper volunteers, smiles were easy to come by."
Image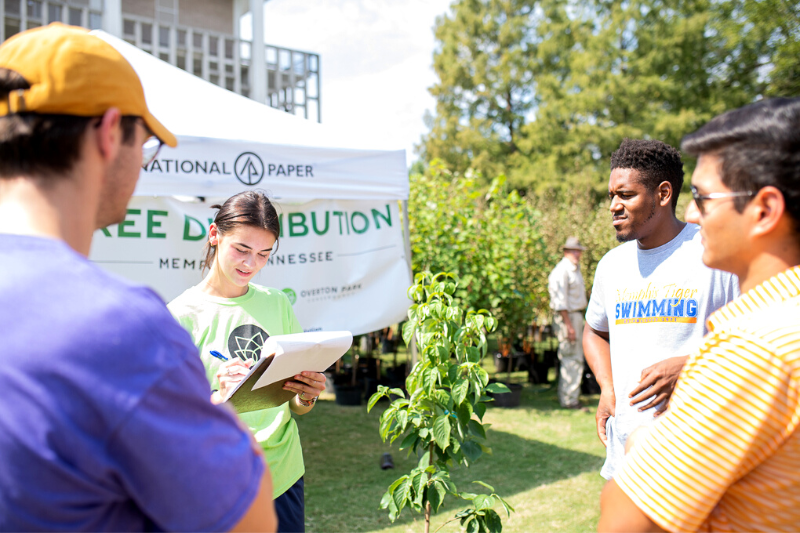 Overton Park's Living History
Dating back to 1901, Overton Park is a public, city-owned park situated at the center of other iconic Memphis landmarks such as the Memphis Zoo and the Overton Park Shell.
Image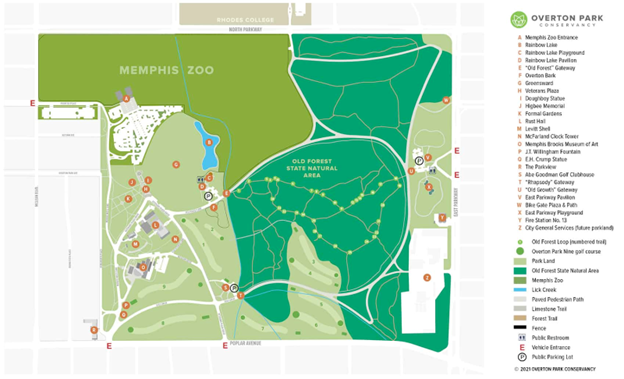 "We pride ourselves on being a park for the people. Everyone can come here and be their best selves year-round," Murley said.
However, as in many communities around the United States, that was not always the case. Memphis civil rights leaders such as Johnnie Turner led protests in Overton Park during the push to end segregation. In Watson v. City of Memphis (1963), the Supreme Court ruled that all public facilities in Memphis must immediately integrate. Overton Park and other institutions truly became open to all Memphians for the first time.
"Today, Overton Park is synonymous with community activism and fighting for environmental and racial justice," Murley said.
The park's most well-known legacy is the landmark Citizens to Preserve Overton Park v. Volpe case, an early and important example of environmental and administrative law. After years of local protest, the Supreme Court ultimately ruled in 1971 that Interstate 40 could not be built through the park as originally planned. Fifty-one years later, Overton Park remains the only spot where I-40 deviates from a straight line, a visual reminder of the powerful impact that a group of concerned citizens can have.
Image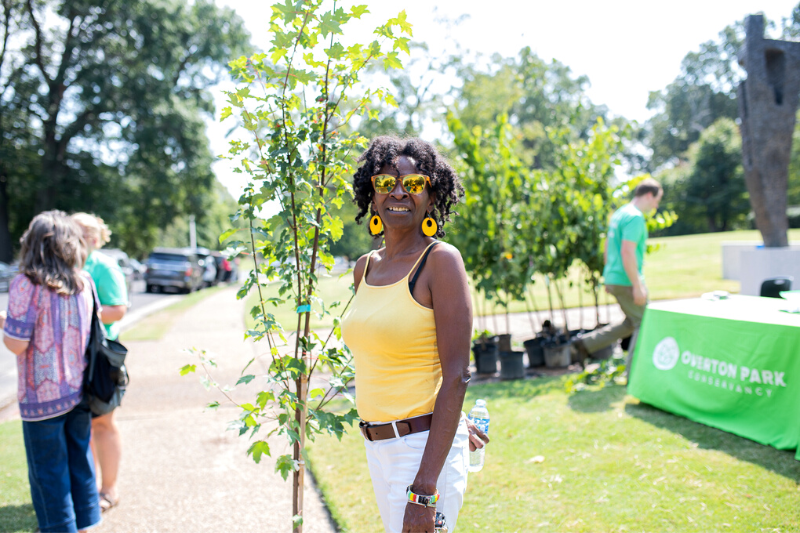 Community Support
Support from donors like International Paper, which is headquartered in Memphis, helps ensure that Overton Park remains a beautiful, safe space for the 1.2 million people who visit it each year. 
"International Paper believes when our communities succeed, our company succeeds. We are committed to building a better future for people and the planet, and strengthening the resilience of our communities with the goal of improving the lives of 100 million people by 2030," Ozols Purdom said. "Our partnership with organizations like Overton Park and NEEF make these goals possible." 
Beyond park clean-up events, International Paper gets involved year-round through initiatives such as the park's Old Forest Research and Restoration Project and the purchase of Eco-Counters to better track visitor data.
"Stories from Overton Park's history—as well as the selfless work by volunteers on National Public Lands Day—speak to the perhaps unlikely success we have seen here of a group of citizens fighting for the space that they love," Murley said. "That is the reason that the park exists today, and why the Conservancy exists to protect it."
 
Topics