Story
Encouraging Proper Curbside Disposal in Washington, DC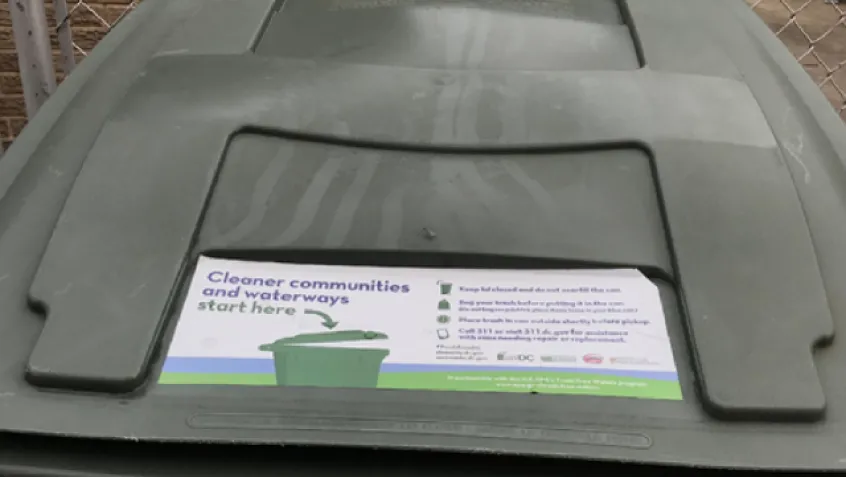 The Curbside Disposal Education Campaign Pilot took place from July 2020-May 2021 and was rolled out in Washington, D.C. through a partnership between EPA's Trash Free Waters Program, the National Environmental Education Foundation, and the local district government, including the D.C. Mayor's Office of the Clean City (MOCC), D.C. Department of Public Works (DPW), and D.C. Department of Energy and Environment (DOEE).
The primary goal of this initiative was to educate residents about proper waste containment and encourage behavioral changes to reduce unintentional leakage associated with curbside municipal trash collection.
A total of 8,000 DPW-serviced, single-family homes in four target neighborhoods were selected to receive a campaign sticker, which was accompanied by material explaining the purpose of the campaign and how to apply the sticker to their municipal trashcans for a point-of-contact reminder about best practices.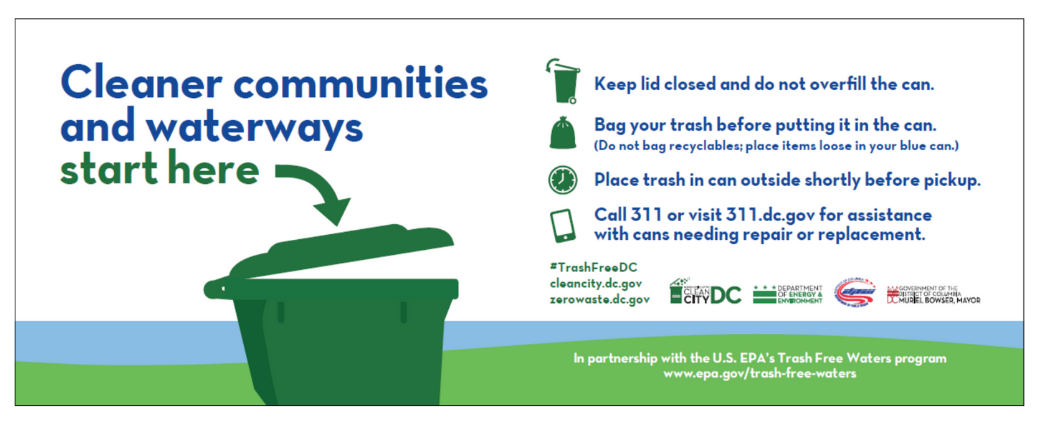 Average litter scores were measured by project partners on a weekly basis for 22 weeks along 1-mile representative routes in each of the four neighborhoods. To assess impact measurement, litter scoring was conducted for the eleven weeks leading up to sticker distribution and the eleven weeks following distribution. Project partners also used these representative routes to collect weekly data on compliance with the four specific recommendations outlined on the stickers and, after distribution, counted the total number of stickers applied to cans.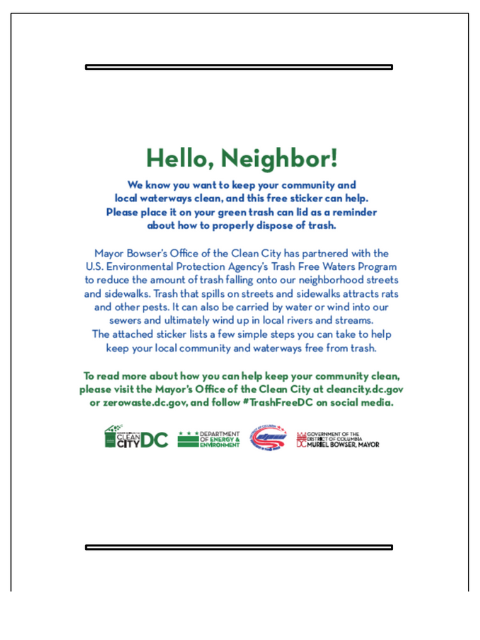 EPA's analysis suggests that although the improvements tended to be small to moderate, this educational program had an overall positive impact on the target communities. In particular, there was a statistically significant reduction in the number of overflowing trashcans and number of overflowing and open trashcans combined across all neighborhoods.
Topics