Story
Reaching the Beach at Sleeping Bear Dunes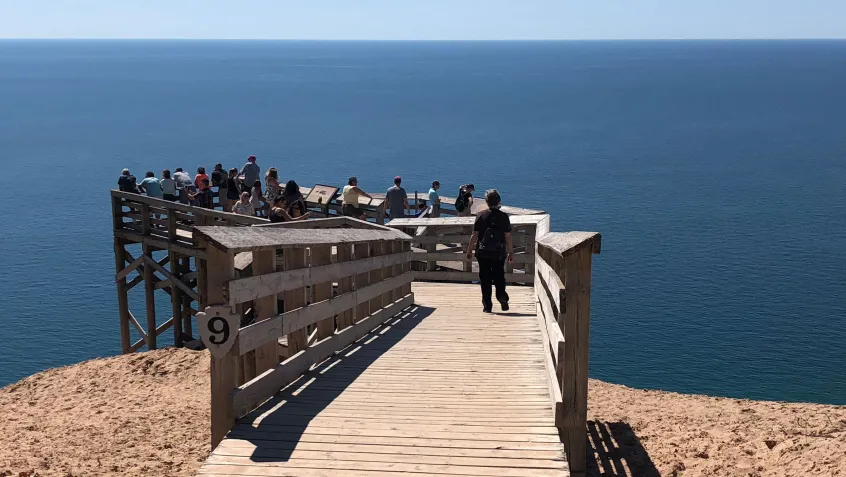 For the last few years, the closest Jeanne Esch has gotten to the beach is the parking lot.
Esch, Chair of the Accessibility Committee at Sleeping Bear Dunes National Lakeshore (SBDNL) in Michigan, has had a long-time love for the miles of sandy beach along the deep blue water of Lake Michigan, surrounded by towering dunes at SBDNL. However, as a wheelchair user, access to some of her favorite areas was a challenge.  But with the help of NEEF's Centennial and Beyond grant, Esch can now get closer than ever to the shoreline.
Image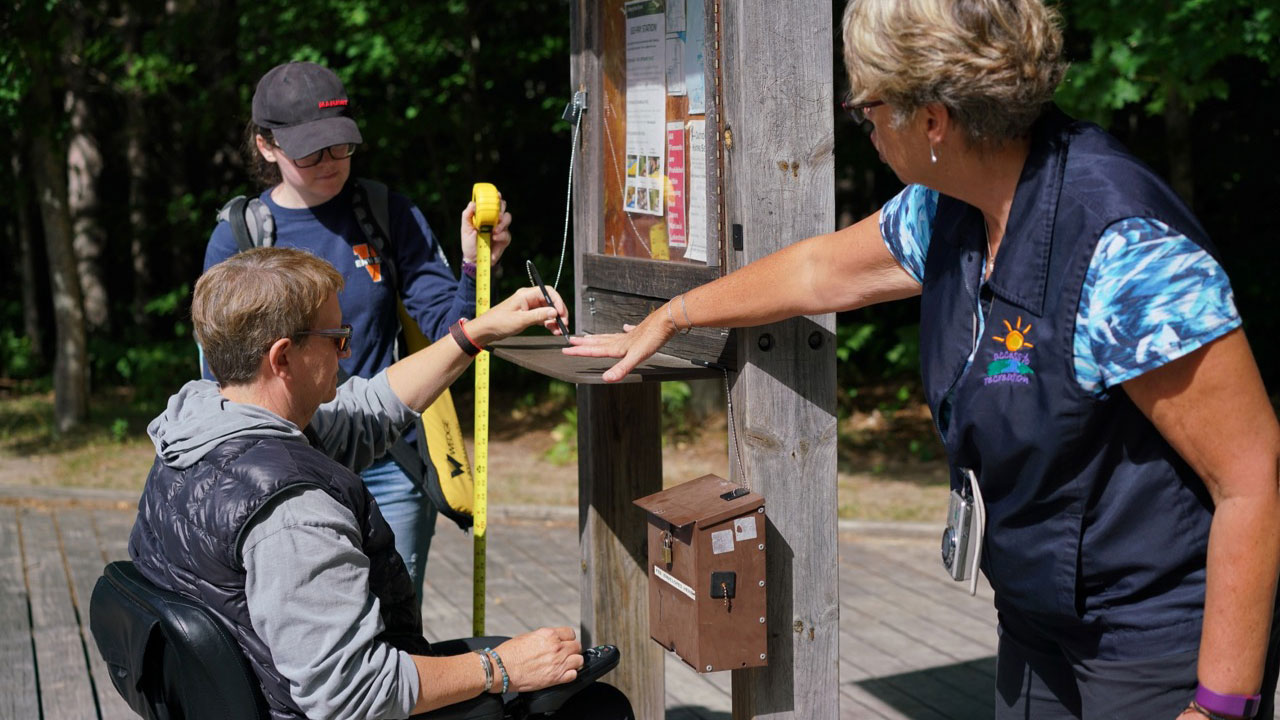 Measuring height requirements at Sleeping Bear Dunes
The Friends of Sleeping Bear (FOSB) Dunes were awarded $17,500 and, in collaboration with Esch and SBDNL staff, conducted accessibility assessments on four beaches and 20 miles of trails throughout the Lakeshore to identify barriers for people with physical disabilities and recommend improvements.
This information was made available online so visitors could find out the potential barriers of a given trail. "Even if we can't change the trail to make it more accessible, people can get that information beforehand and decide for themselves which trails – or how much of a trail – they can traverse," said Esch.
The assessments were also evaluated by the FOSB Accessibility Committee, who then selected two beach sites on which to install accessible Adawalk walkways to provide a solid surface for mobility above soft soil conditions.
And now I'm looking forward to the track chair coming…I can't stop smiling, I'm so excited about it!

 Jeanne Esch
Additionally, the group purchased a track chair, and established a program for public use. A track chair is an electric wheelchair that can be used on beach sand and be taken into wading-level water.
"On a personal level, as a chair user – having that access on the beach to be able to go out to the shoreline to sit and enjoy the water instead of [being] out in the parking lot watching from afar has been huge," said Esch. "And now I'm looking forward to the track chair coming…I can't stop smiling, I'm so excited about it."
Want to learn more about this project?  
Watch the team at Sleeping Bear Dunes discuss this project during the Power of Parks Roundtable Accessibility session.
Webinar Recording:
Topics