Story
NEEF Conservation Grant Supports Biodiversity in the California Floristic Province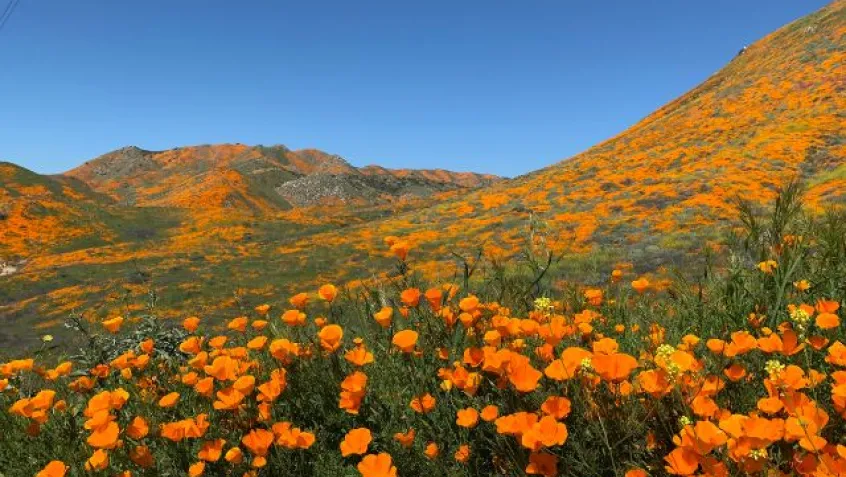 In April 2021, NEEF and Toyota Motor North America announced $220,000 in grant funding to support biodiversity conservation projects on public lands within the California Floristic Province ecological region. This biodiversity hotspot covers a sprawling 113,438 square miles throughout California, Oregon, Nevada, and Baja California.
Image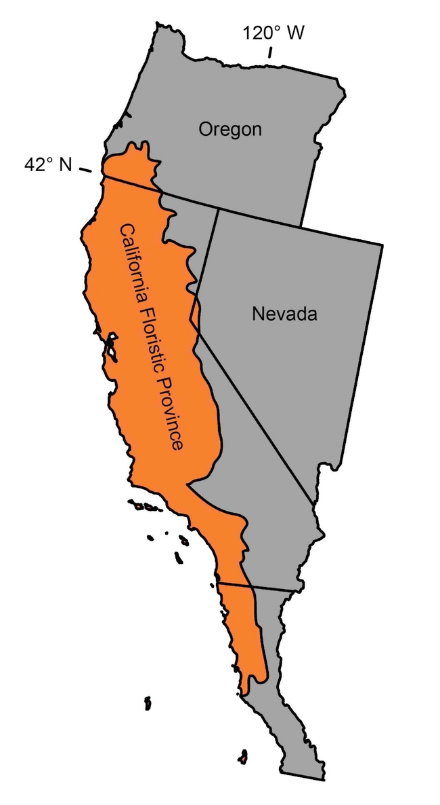 The planet's 36 biodiversity hotspots are home to the widest variety of endemics—plants and animals that are found nowhere else in the world. The California Floristic Province's Mediterranean-like climate and range of ecosystems are ideally suited for many iconic species like California's famous towering redwoods and the endangered California condor. About 61% of the hotspot's plants are found nowhere else in the world.
However, this area is now seriously threatened by habitat loss due to a variety of reasons, including urbanization and pollution. Today, only about 25% of the land within the hotspot's borders remains in pristine condition.
The four selected projects focused on protecting and improving this valuable ecological region. Now that a year has passed, we checked in with the grantees for an update on how the funds have been put to work. From restoring endangered habitats to integrating citizen science and encouraging responsible recreation, these hands-on, community-driven projects are sure to inspire.
Improving Bio-Rich Grassland Health by Removing Invasive Species
The Edgewood County Park and Natural Preserve in San Mateo County is home to a mosaic of habitats that support approximately 500 rare, endemic, threatened, and endangered species of plants—all within just 467 acres.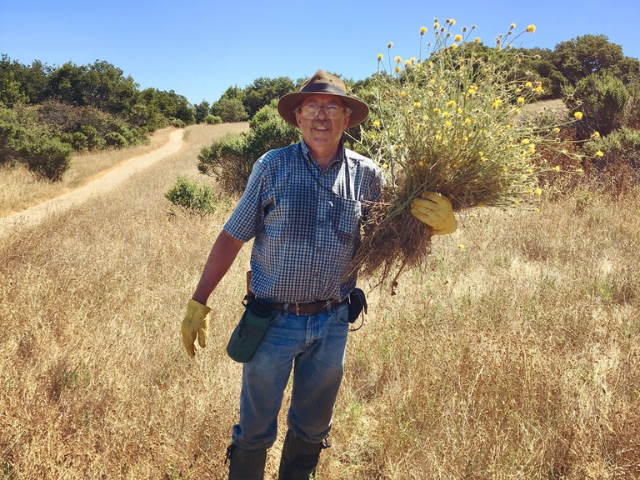 "Edgewood Preserve is one of the most accessible places in California where people can learn about—and help protect—our region's biodiversity, making it an ideal locale for bridging the science of conservation with community-based stewardship and education," said Michele Beasley, executive director of the San Mateo County Parks and Recreation Foundation.
By removing non-native plants and planting native seeds, the Green Grass Biodiversity Conservation Initiative is improving the area's currently degraded native grasslands and helping at-risk species such as the Bay checkerspot butterfly, San Mateo thornmint, and white-rayed pentachaeta. Between March and August 2021, Friends of Edgewood grew 24 native species to increase the volume of seeds available for restoration.
This project also supports a 40-plot, multi-year experiment to determine effective methods for controlling non-native grasses and forbs, increasing native cover, and producing long-lasting, healthy, and biodiverse grasslands.
Edgewood Preserve is one of the most accessible places in California where people can learn about—and help protect—our region's biodiversity.

Michele Beasley, executive director of the San Mateo County Parks and Recreation Foundation
 
"Volunteers are helping with cutting-edge treatments of grasslands in an effort to protect this diverse landscape with its 12 rare or endangered plant species. Results at Edgewood can offer important lessons for grassland restoration throughout California," said Beasley.
Through the new Trail Ambassadors program, 23 people logged over 300 hours of volunteer time in the field between March and July 2021, interacting with more than 900 visitors. After a two-year hiatus, Friends of Edgewood re-launched its spring Wildflower Hikes throughout May 2022.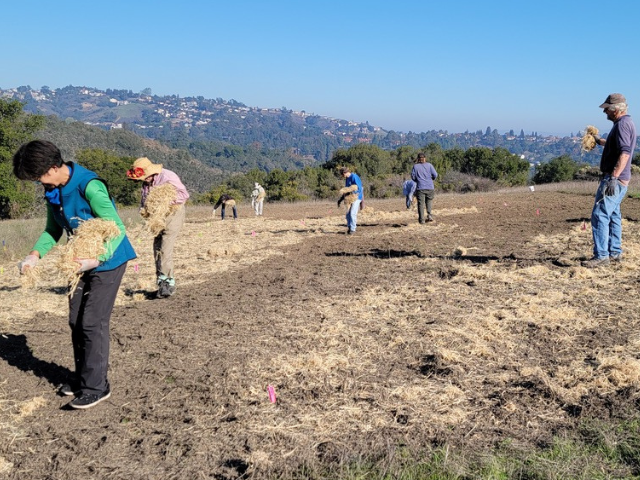 Reducing Fire Risk and Increasing Plant Diversity in Moro Canyon
Located in the center of Moro Canyon at the nexus of two major hiking trails, an area of Crystal Cove State Park known as "the Bowl" has long been challenged by invasive black mustard. The Native Plant Restoration and Conservation project is restoring 50 acres of this important coastal sage scrub habitat, resulting in improved ecosystem function and resilience, reduced fire risk, and increased native plant diversity.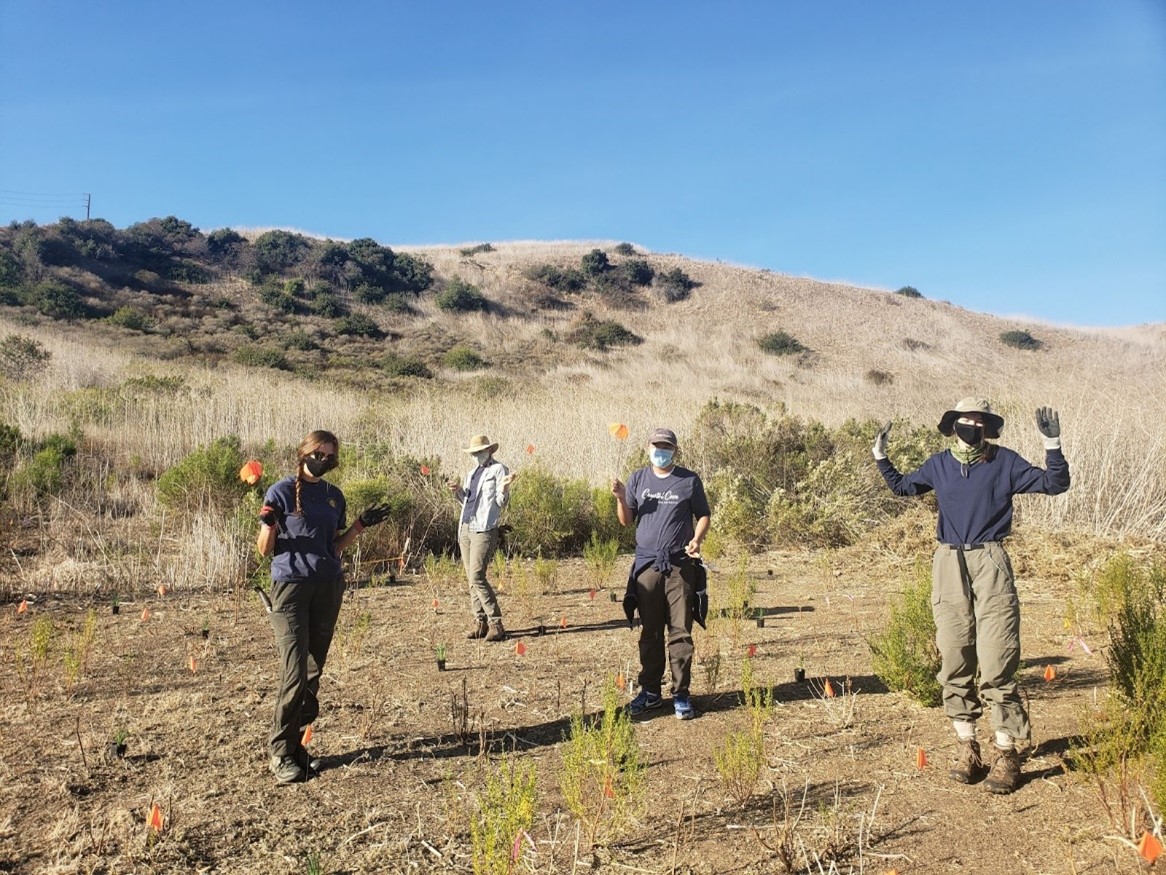 "The grant [from NEEF and Toyota] helped keep a critical restoration project going during an incredibly challenging time when state funding was being cut due to COVID-19. We have expanded the restoration project from a few trial acres to the entire 50-acre site, helping to restore and protect an endemic plant community that is home to several rare and endangered birds," said Kate Wheeler, president and CEO of Crystal Cove Conservancy.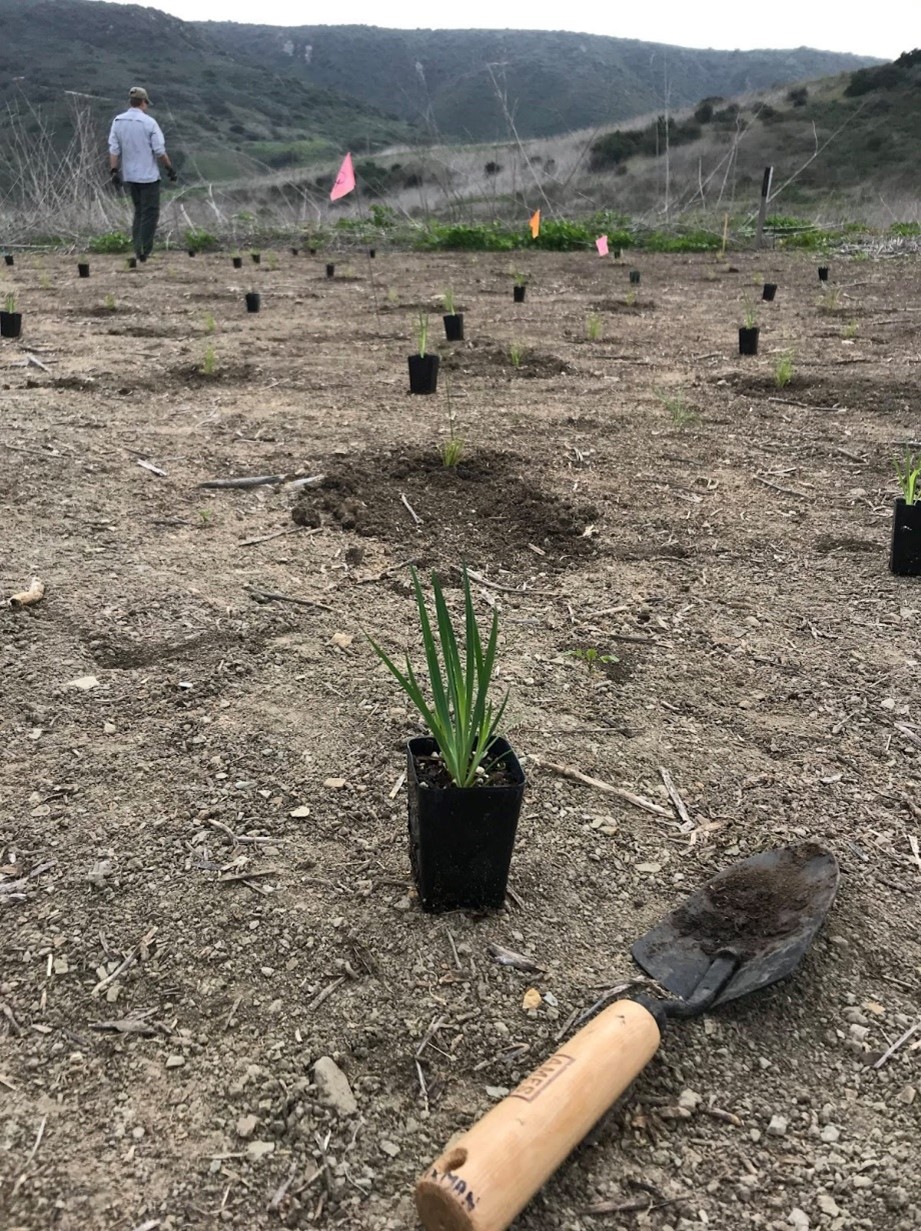 In winter and early spring of 2021, staff hosted nine stewardship workdays to deposit 4,000 grams of seed, plant more than 1,600 native flowers and shrubs, and remove invasive black mustard across the six targeted acres. In February 2022, pandemic restrictions were lifted and volunteers were welcomed back to assist with clearing invasive mustard at the Bowl for the first time in two years.
"The volunteer event sold out' nearly instantly when it launched online. We are excited to be able to harness local energy to give back to Crystal Cove State Park throughout the remainder of our stewardship events over the next year," said Wheeler.
The grant [from NEEF and Toyota] helped keep a critical restoration project going during an incredibly challenging time

 Kate Wheeler, president and CEO of Crystal Cove Conservancy
This project incorporates community science programs for K-12 students that link classroom learning to real environmental research in the park. A high school internship program investigates the effects of fire and restoration on mammal biodiversity, which became especially timely in February 2022, when the Emerald Fire broke out a few miles from the Bowl. Fortunately, the fire was contained quickly, with minimal impact to the park.
"This is how we'll protect places like Moro Canyon for future generations to enjoy—not just by restoring them, but by integrating our community and our future scientists so that they are empowered as environmental stewards who can work side by side with us to protect this important endemic habitat," said Wheeler.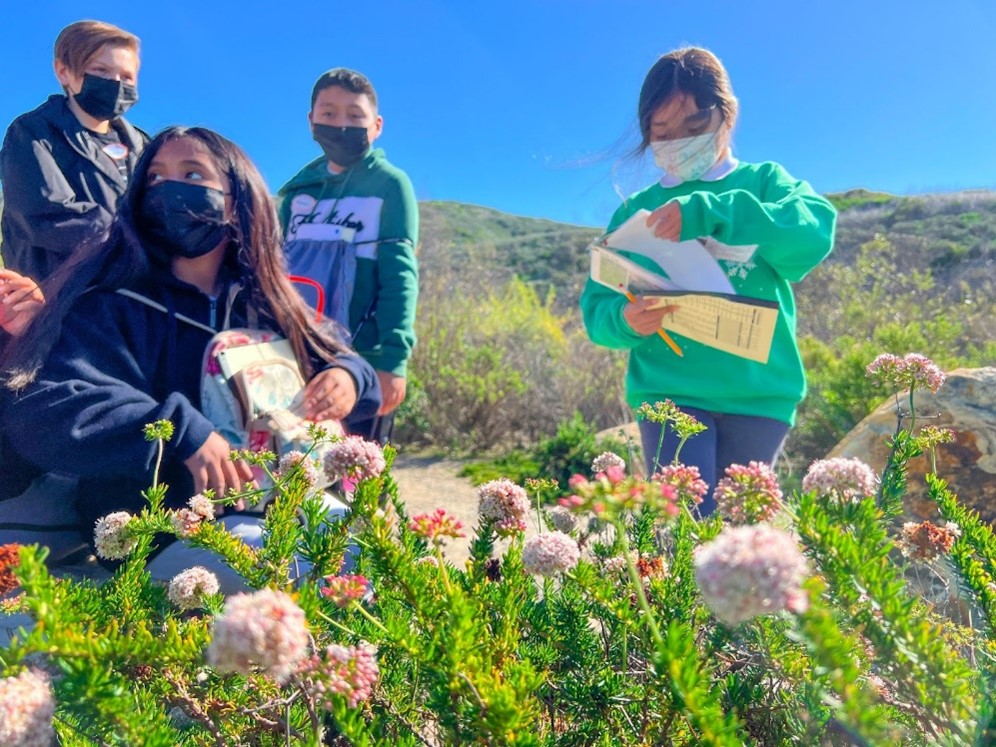 Protecting the Declining Aspen Population
Populations of quaking aspen have been declining in the western United States and Canada, largely due to over-browsing by ungulates like deer, over-topping by conifers, and human intervention. Through the Restoring Fringe Meadow Aspen Habitat and Outdoor Education project, the South Yuba River Citizens League (SYRCL) is working to restore and conserve more than 550 acres of aspen stands in the Yuba River watershed and protect vulnerable, budding aspen root sprouts, also known as suckers.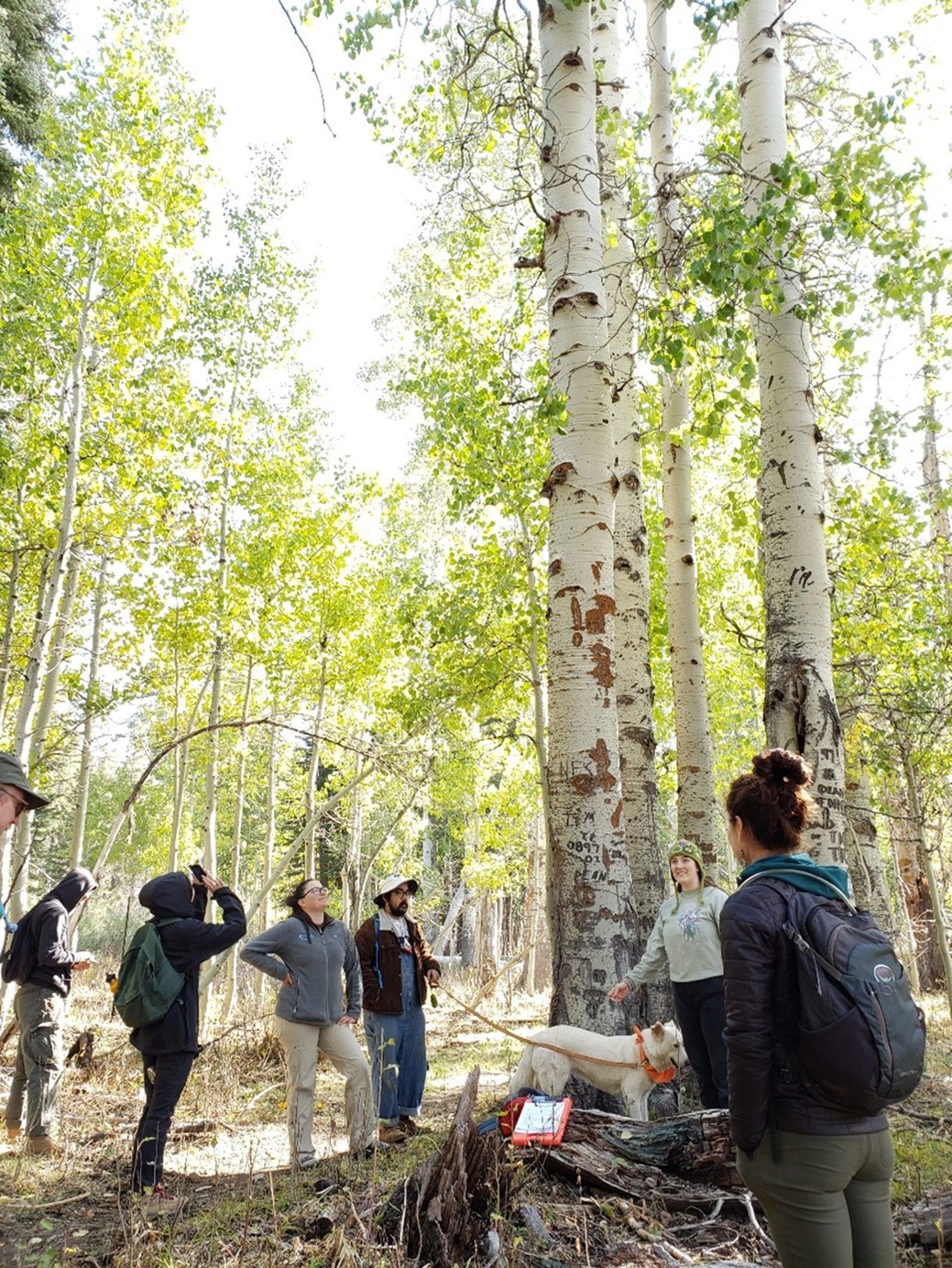 "Aspen habitat is at a high risk of being lost in the next few decades, so we are pouring efforts into raising awareness, informing restoration, and implementing restoration. This [biodiversity conservation] grant has allowed us to work toward our goal to protect aspen habitat for many generations to come and has let us involve the local community through education programs and volunteer engagement events," said Mary McDonnell, SYRCL Forest Conservation Coordinator.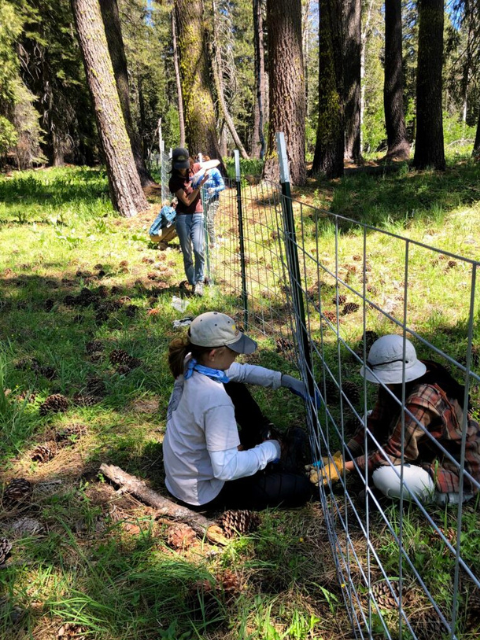 So far, SYRCL has installed 800 feet of cattle exclusion fencing to protect four acres of vulnerable new growth aspen, monitored the health and other possible threats to 30 acres of aspen stands using camera traps and assessment protocols, and empowered community members to responsibly recreate in aspen stands.
Aspen habitat is at a high risk of being lost in the next few decades.

Mary McDonnell, SYRCL Forest Conservation Coordinator
The Youth Outdoor Leadership Opportunity (YOLO) program engaged six local high school student volunteers who helped with all aspects of the project. Many of the students had little to no familiarity with aspen ecology or the area itself before their involvement with YOLO.
"My favorite part of this project was working with the local high school students and facilitating their relationship with the natural spaces in their home watershed. We set aside time every day for quiet reflection for them to journal. I feel wholeheartedly grateful for the work the students did toward restoring the meadow and am so proud of the students' growth," said McDonnell.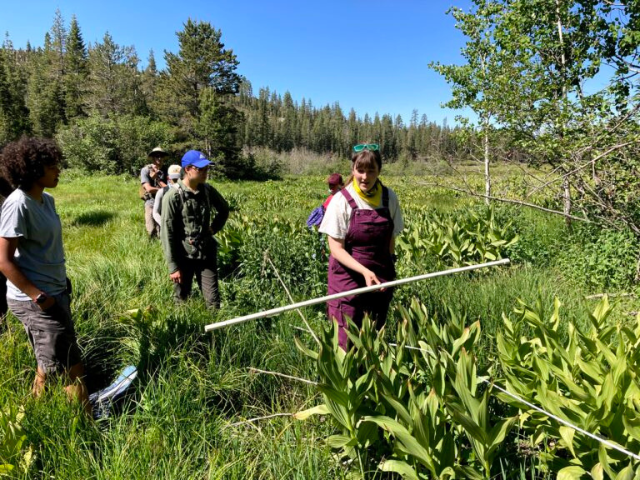 Restoring Native Habitat and Saving the Most Endangered Butterfly in North America
The Palos Verdes Peninsula Land Conservancy aims to address the issue of declining native plant diversity at Abalone Cove Park in Rancho Palos Verdes by eradicating invasive species and growing a palette of native plants that support the area's endangered pollinators.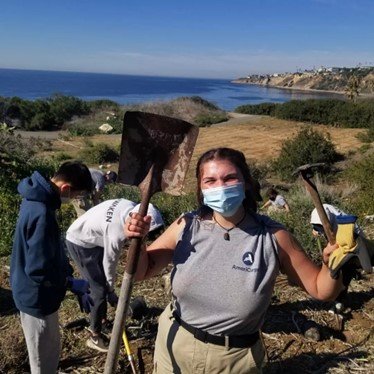 "Our project is to support the recovery of special status species through habitat restoration. NEEF contributed funding to help make this important work possible," said Megan Wolff, volunteer coordinator at the Palos Verdes Peninsula Land Conservancy.
First, the group completed seven events focused on removing invasive plants like Acacia, Caesalpinia, black mustard, and ice plant in buffer regions to keep seeds from spreading. More than 80 community members participated in a nature walk in July 2021 to learn about the history, geology, and habitat restoration work being done in the area. Long-term volunteers engage in the "adopt-a-plot" program, eradicating weeds, watering, and planting.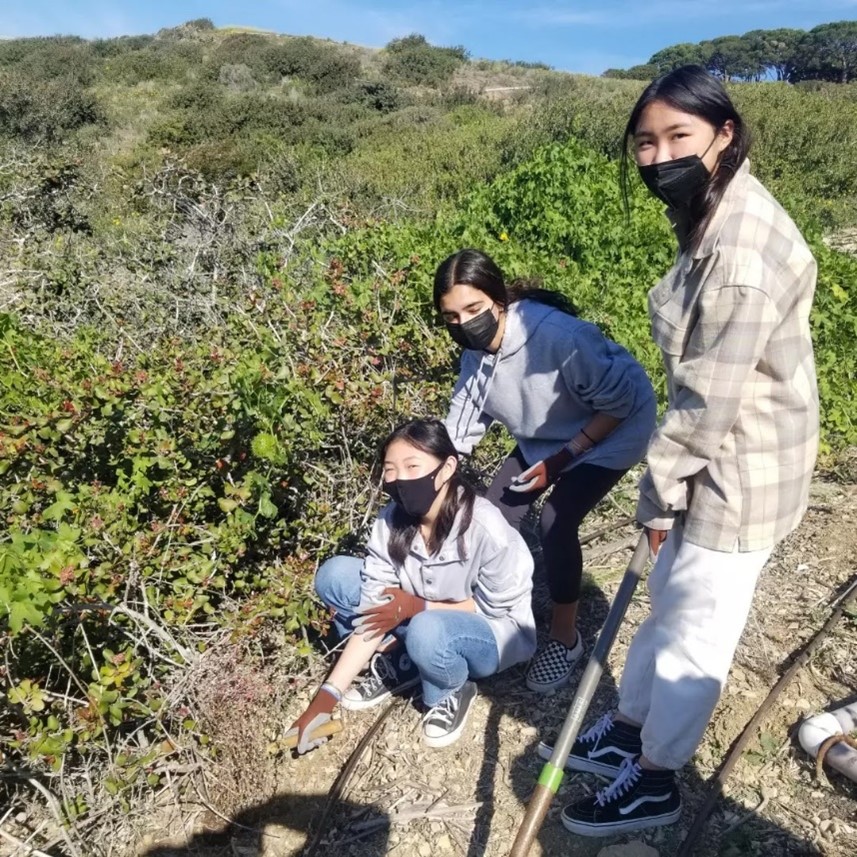 The final step of the project has just begun after the completion of a multi-month project to install large-scale drip irrigation for drought-tolerant plants. This spring, AmeriCorps partners are helping the Land Conservancy install 5,000 native plants that will provide habitat for the federally endangered El Segundo blue butterfly, Palos Verdes blue butterfly, California gnatcatcher, and coastal cactus wren.
The Land Conservancy engaged a regional botany expert to ensure that all plants used in the project came from local seed and excluded any plants that would be harmful to butterfly species. They have also collaborated with the U.S. Department of Agriculture Natural Resources Conservation Service and the California State University, Long Beach GIS Masters Cohort, including aerial imagery to quantify vegetation changes over time.
Topics