Story
Healthy Environments Give Kids a Healthy Start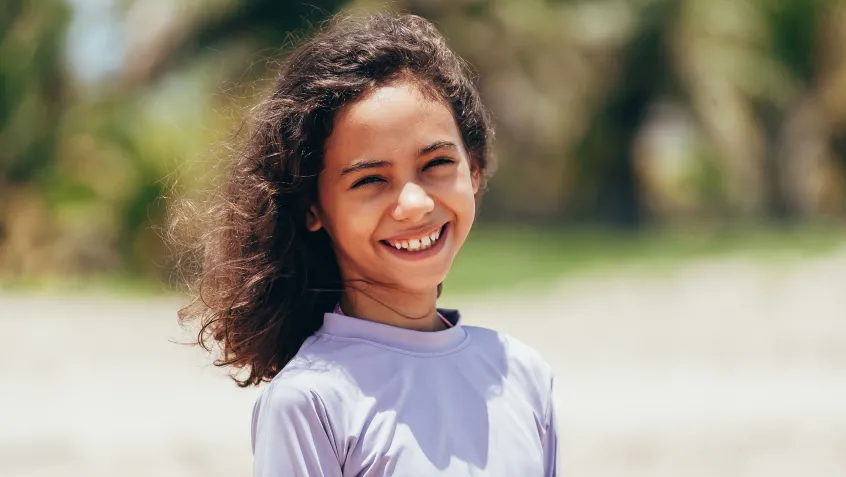 "If you want to learn about the health of a population, look at the air they breathe, the water they drink, and the places where they live." – Hippocrates
We've long known that the environment can have a big impact on our health. This is especially true for kids. According to the EPA's Children's Environmental Health Impact Report, air pollution contributes to 600,000 deaths worldwide in children under 5 years old.
Chronic diseases are defined broadly as conditions that last one year or more and require ongoing medical attention and/or limit someone's ability to participate in the activities of daily living. Chronic diseases such as heart disease, cancer, and diabetes are the leading causes of death and disability in the US and are key drivers of the nation's $3.8 trillion in annual health care costs.
Image

Children and infants are at higher risk of being impacted by pollution or other environmental factors that can cause serious health problems because:
Kids eat, drink, and breathe more than adults do, relative to their size.
They frequently put objects in their mouths and play on the floor and ground.
Their bodily systems that help filter pollutants and process chemicals are not yet fully functional.
Chemicals in the environment can disrupt periods of rapid growth and development during childhood.
They depend on adults to ensure that their environment is safe.
Environmental Justice to Improve Health
October is Children's Health Month, and Children's Environmental Health Day (#CEHDay) is held annually on the second Thursday of the month to increase the visibility of children's environmental health issues while empowering individuals and organizations to take action on behalf of children nationwide.
The COVID-19 pandemic has put increased attention on the role that environmental health plays in preventing disease. All children have the right to healthy environments where they can thrive. However, there are disparities among communities with regards to lead in childhood blood levels, drinking water quality, air quality, exposure to hazardous waste sites, and other environmental issues, with Black, Latinx, Indigenous, and low-income communities disproportionately impacted. 
The National Institute of Environmental Health Sciences explains the role of environmental justice—making sure everyone has a fair chance of living the healthiest life possible—in addressing this disparity.
Chemical pollution, air pollution, poor water quality, and lack of access to healthcare are key environmental factors affecting health. For example, good health starts with clean air—especially for people with asthma. But wildfire smoke in the western US presents a growing health challenge. This is just one example of how climate change poses environmental health challenges here and now.
Reduce the Risk of Lead
Lead poisoning remains a top environmental problem for young children—especially in developing countries, but also here in the US. Approximately 500,000 American children ages one to five have blood lead levels above five micrograms per deciliter, which, if left untreated, can lead to slowed growth, anemia, behavioral and learning problems, and a host of other health issues.
Lead can contaminate soil, air, drinking water, and food. The digestive systems of young children absorb lead at significantly higher rates than adults. Even small amounts of lead can be dangerous for brain development.
Help protect your children from lead poisoning by:
Getting kids tested for lead by their health care provider.
Testing your home for lead paint hazards if it was built before 1978.
Washing your kids' hands before they eat.
Washing bottles, pacifiers, and toys often.
Use only cold water for drinking, cooking, and making baby formula.
For more resources, access the Centers for Disease Control and Prevention Soil Screening, Health, Outreach and Partnership (soilSHOP) program. This toolkit helps people learn if their soil is contaminated with lead and how to reduce their exposures to contaminated soil and produce.
Choose Safe Places for Child Care
The Environmental Protection Agency's Choose Safe Places Program  helps communities ensure that early childcare and education centers are located away from chemical hazards. This is important because in the US about 8.3 million children spend an average of 36 hours per week in licensed child care centers, daycare, preschool, and pre-K programs.
When an early care and education program is not located in a safe place, children may be exposed to harmful chemicals in the air they breathe, the water they drink, or soil they touch or swallow. Before establishing a childcare site or enrolling your child in a local program, ask the question "What is nearby?" Examples of naturally occurring contaminants include:
Soil: might contain lead, asbestos, or arsenic.
Groundwater used for drinking: might contain arsenic.
Indoor air: might contain radon.
Outdoor air: might contain asbestos.
Image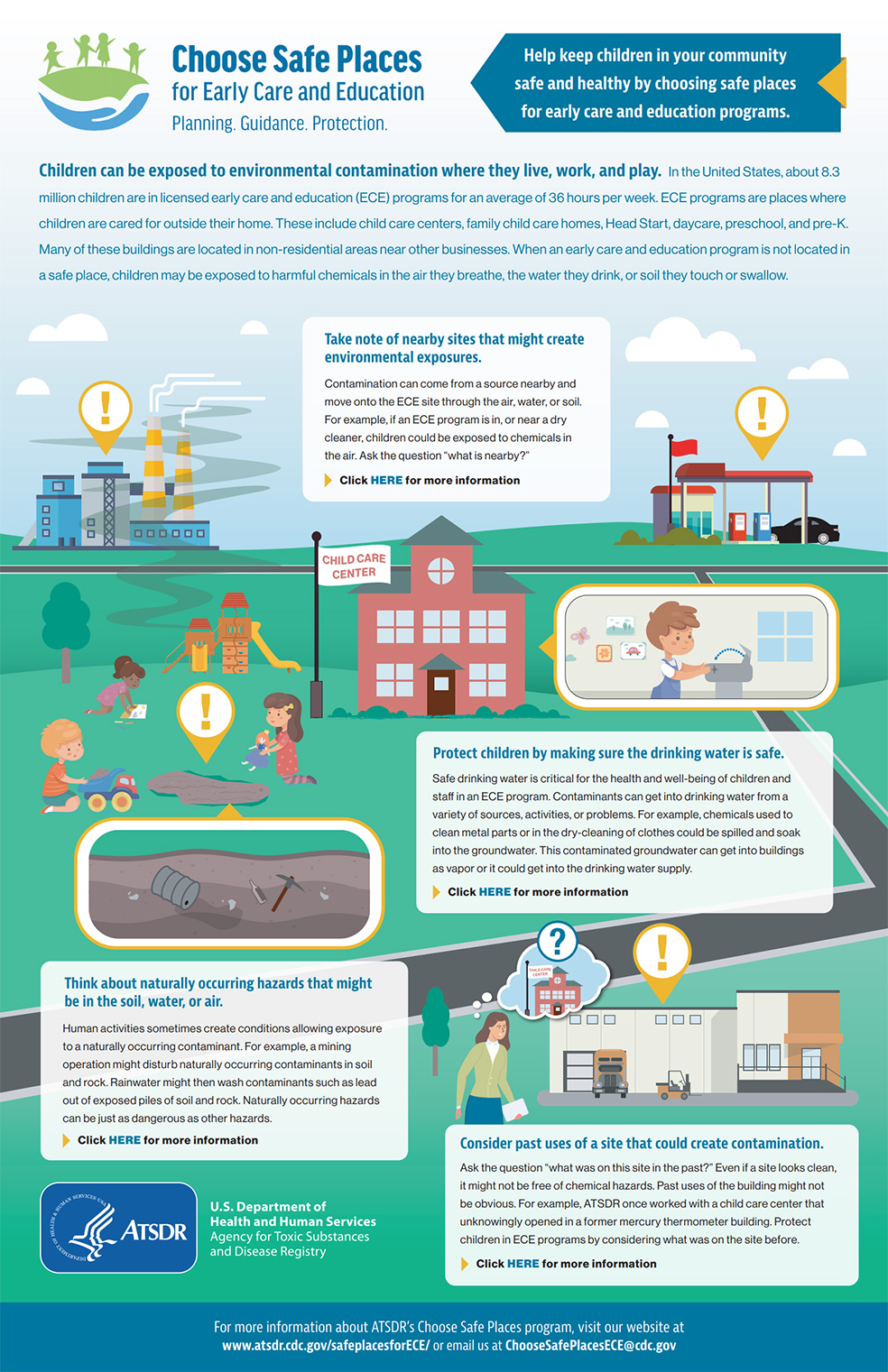 Learn More About Children's Health and the Environment
NEEF hosted the Children's Environmental Health Series, which focused on the impact of environmental factors on children's health and well-being, from June 8-22, 2021. Visit the event page to watch recordings of each session and access our free health resources. Guests included former US Surgeon General Dr. Regina Benjamin and two-time NBA champion Josh Powell, who shared perspectives on issues affecting marginalized communities and presented evidence-based methods for integrating best practices to improve environmental health.
Topics