Story
Explore Career Opportunities in Environmental Science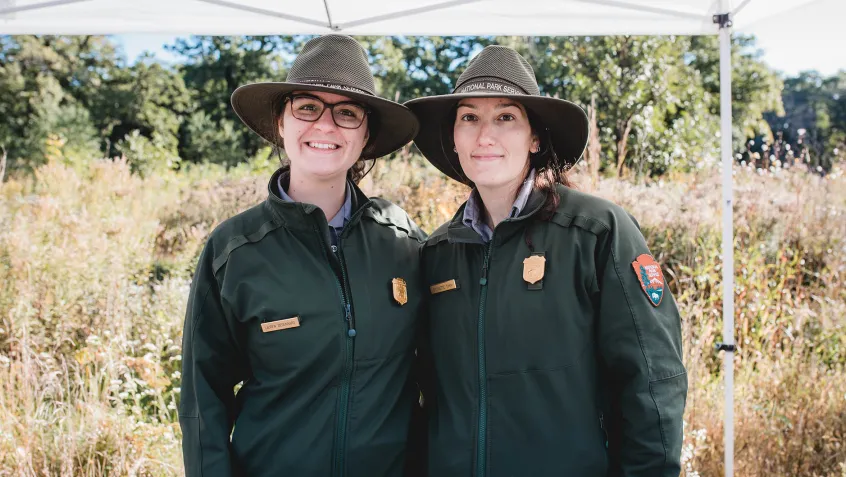 What Is Environmental Science?
Do you love the outdoors (or know someone who does)? Are you passionate about wildlife and public lands and want to make a difference? A career in environmental science might be for you.
Environmental science is a multidisciplinary field focused on the biological, physical, and earth sciences. People who pursue careers in this broad category use an understanding of the earth's systems rooted in science, technology, engineering, and math (STEM) to protect the environment and public health.
Given the growing understanding of the challenges of climate change, there's never been a better—or more important—time to work in environmental sciences. This growing field offers a wide variety of career paths with competitive salaries. The US Bureau of Labor Statistics (BLS) projects that employment of environmental scientists is projected to grow 8% from 2019 to 2029, much faster than the average of all other occupations in the country.
An environmental science career might mean working in an office, out in nature, or a combination of both. Your focus could be on math, writing, or studying the natural world. You can get a job at universities, private companies, government agencies, or even a non-profit organization like NEEF—several of our staff members have a background in environmental science. The options are nearly endless.
Build A Strong Education Foundation
Given the broad array of opportunities, young people should start preparing early to build the skills needed for a career in environmental science. High school and college students should focus on STEM classes to build a strong environmental science foundation. It's never too early to get involved in STEM-related clubs and volunteer activities to build valuable skills.
The BLS advises that most entry-level jobs in this career path require a bachelor's degree in environmental science or a related topic, like biology, chemistry, or engineering. Other majors that provide a path to working in conservation include forestry, agriculture, or natural resource management. Coursework in environmental policy, geography, computer modeling, and data analysis can also be helpful.
College students or recent graduates should secure an environment-related internship to gain hands-on, practical experience. Additionally, a master's degree or PhD may be needed for some positions, such as advanced laboratory research or academia.
Exploring Careers in Conservation
What can you do with an environmental science-focused degree? A lot! In fact, careers in this field are so diverse it's hard to make them fit into just one category. For example, the following jobs all have roots in environmental science:
Ecologist
Wildlife manager
Environmental educator
Meteorologist
Land use planner
Environmental lawyer
Conservation is an overarching theme of many environmental science careers. A professional conservationist can work out in the field for federal and state agencies like the National Park Service or US Forest Service, or they can serve in a variety of administrative, communications, or policy roles for companies or non-profit organizations.
Ready to learn more about opportunities in conservation and environmental science? You can find more background information from the BLS or listen to the Conservation Careers podcast to discover jobs in this field around the world and tips to help find the right fit for you.
Get Your Start in Environmental Science
With so many career options available, it can be challenging to know where to start. We recommend getting to know the following organizations that help young people enter the world of environmental science through skills training, financial aid, entry-level positions, and more. The experience and personal connections gained through these roles can lead to other higher education and employment opportunities.
AmeriCorps
AmeriCorps is a federal agency that provides more than $800 million in grants every year to support organizations making a positive impact in their communities. AmeriCorps enrolls more than 270,000 people each year who serve 1.6 billion hours in community organizations across the country.
Explore the wide variety of available programs to find the right fit for you, including volunteer, part-time, flexible, and full-time positions. During their service, AmeriCorps members can earn a living allowance, skills-based training, and financial aid for educational expenses. The environmental stewardship projects through the AmeriCorps State and National programs help protect thousands of acres of public lands.
Community Volunteer Ambassador Program
The Community Volunteer Ambassador (CVA) Program is an innovative-public partnership between the National Park Service and the Stewardship Individual Placement Program. Recent high school and college graduates spend one year coordinating volunteer service days in national park sites. Visit their staff bios page to get to know the current CVAs and their placements around the country, from Cape Hatteras National Seashore to Hawaii Volcanoes National Park and beyond.
Conservation Legacy
National non-profit organization Conservation Legacy engages youth, young adults, and veterans in local conservation and service programs at 15 locations nationwide. These collaborative service projects include multiple partner organizations such as federal agencies, tribal governments, and other non-profits.
Conservation crew teams complete traditional trail work, fence construction and maintenance, historic preservation, and more. Stewardship Individual Placement Program participants live in a community for up to a year, working on a variety of projects from habitat restoration to volunteer management and communications. Conservation Legacy's youth programming empowers teens aged 14-18 to engage in summer conservation projects.
Student Conservation Association
The Student Conservation Association (SCA) is America's conservation corps, working to protect and restore national parks, cultural landmarks, and green spaces in all 50 states. SCA offers short-term paid program positions for young adults. Recent high school grads who are exploring options before college might be interested in SCA's gap year programs that provide life experiences and perspective while serving the planet.
Throughout the pandemic, SCA has offered a variety of online conservation programs to help connect young people with the planet that provide local ways to take action, such as planting a pollinator habitat or taking a hike.
Youth Conservation Corps
The United States Youth Conservation Corps (YCC) is a summer employment program that develops environmental stewardship and civic responsibility in youth ages 15-18 while working in national parks, forests, wildlife refuges, and fish hatcheries. Youth are generally paid a minimum wage to work full-time during YCC programs for 8-10 weeks.
Supporting Diversity and Inclusion in Environmental Sciences
According to a comprehensive report on the state of diversity in environmental organizations, a "green ceiling" still exists for people from Black, Indigenous, and Latinx communities working in environmental careers. However, organizations and educational programs like these are working to make a change for young people getting started in STEM- and environmental science-focused careers.
Community Volunteer Ambassador Program
The 2021 June Cohort of the Community Volunteer Ambassador (CVA) Program is designed to engage youth of color in the National Park Service, with the goal of increasing the overall diversity of the CVA program to recruit underrepresented communities and hire diverse members into the CVA June positions.
Doris Duke Conservation Scholars Program
The Doris Duke Conservation Scholars Program (DDCSP) is a multi-year undergraduate research program administered through several universities across the country. DDCSP supports diverse undergraduate scholars pursuing coursework and careers in conservation. The organization also encourages conversations about diversity and inclusion in the conservation and environmental fields.
Society for Advancement of Chicanos/Hispanics and Native Americans in Science (SACNAS)
The Society for Advancement of Chicanos/Hispanics and Native Americans in Science (SACNAS) is an inclusive organization supporting success in higher education, careers, and leadership positions in STEM. The organization provides training and scholarships to help Latinx and Indigenous students develop passions in science-focused fields that become lifelong careers. The five-day Linton-Poodry SACNAS Leadership Institute (LPSLI) provides training for professionals interested in advancing diversity, equity, and inclusion in their organization.
A Career That Makes a Difference
Pursuing a career in environmental science can be a very rewarding experience, because your success benefits the planet and everyone on it.
Educators, parents, and caretakers of children interested in taking their love of the environment to the next level should consider implementing a Greening STEM program to provide students with hands-on examples of their in-class instruction. Consider signing up for extracurricular STEM programs as well to account for additional learning methods. And if you're still stuck, it never hurts to ask for advice from an expert in the field.
Topics