Story
Bring Fat Bear Week into Your Classroom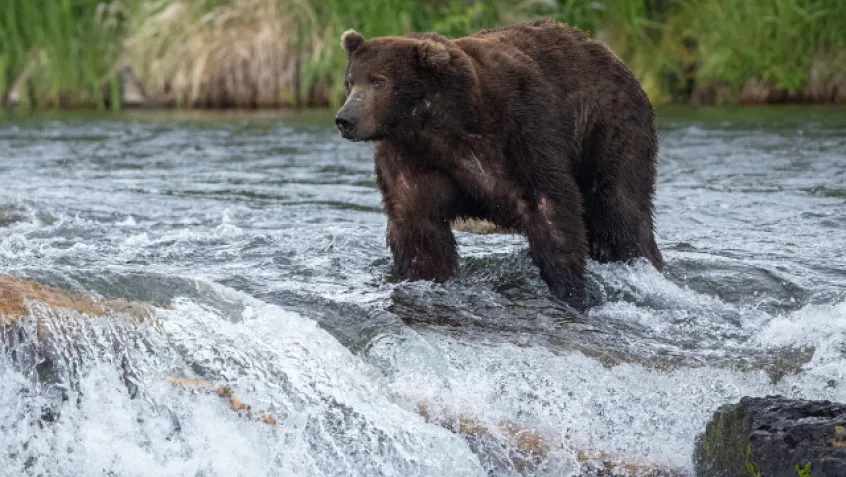 A Fat Bear Is a Healthy Bear
Each summer, brown bears congregate along the Brooks River in Katmai National Park for their annual feast—an event that has now become world-famous thanks to Fat Bear Week, a collaboration between Katmai, Explore.org, and the Katmai Conservancy.
Fat Bear Week is like March Madness for bears getting ready for hibernation. For one week, people log on and vote daily for their favorite bear based on a variety of factors, such as the bear's growth over the summer season, backstory, or which bear looks the largest. Last year, a record 793,000 votes were cast!
Along the way, participants learn about brown bear ecology. Each of the bears in the contest faces its own challenges. Males need to catch a lot of fish so they can grow large to show their dominance and secure the best fishing spots; females need enough calories to sustain their cubs. Young bears must learn how to fend for themselves. 
The reigning champion is Bear 480—AKA "Otis"— one of the oldest bears in the competition. Despite missing several teeth, he has been victorious four times since the contest launched in 2014 thanks to his effective, low-energy fishing strategy. However, challenger Bear 747—"Bear Force One"—emerged from hibernation earlier this year already looking quite rotund. Could he be an early favorite to win the 2022 bracket?
Image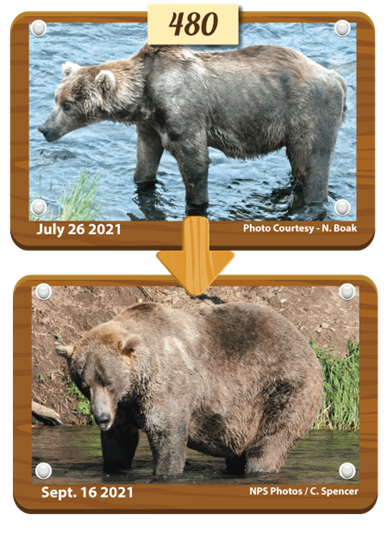 Bulking Up for Survival
While the roly-poly bears may look cute, their feasting is actually serious business. That's because for bears, fat equals survival. 
"Fat Bear Week is really a celebration of success and survival," Lian Law, a visual information specialist at Katmai, told the Washington Post in 2021. "We really highlight the resilience and adaptability of bears here."
Fat Bear Week puts a huge spotlight on the importance of Alaska's Bristol Bay ecosystem. Brown bears are drawn to Katmai because it is home to one of the largest, healthiest salmon runs left on the planet. A waterfall located on the Brooks River creates a temporary barrier for salmon, giving bears a chance to catch a lot of fish, very quickly. A large, dominant male bear can eat more than 30 fish per day during the salmon run. Each salmon provides about 4,000 calories.
Brown bears, which are much larger than the grizzly bears seen in the Lower 48 states, must eat a year's worth of food in less than six months to survive hibernation. After entering their dens each winter, bears won't eat or drink until they emerge in the spring. They may lose up to 1/3 of their body weight during those long, cold winter months.
Fat Bear Week and Environmental Education
Fat Bear Week reminds us why biodiversity matters and how ecosystems are interconnected. Salmon are a keystone species that impact the survival of virtually all of the other plants and animals that live in the region. 
Image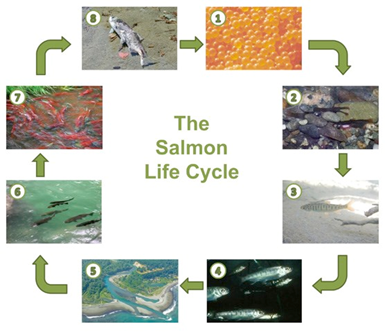 The National Park Service (NPS) offers resources to educators to help students learn about the Katmai ecosystem during Fat Bear Week. This interactive programming allows kids and adults alike to connect with one of the country's most remote parks, a place that most people will never have the chance to visit firsthand.
Here are some ways your classroom can get involved during Fat Bear Week:
Visit the contest website to download a blank bracket to use during the contest. Voting for Fat Bear Week 2022 will be open from October 5-11. In addition to the main event, four baby bears will face off in a warm-up contest to crown "Fat Bear Junior," which takes place September 29-30.
Download the "Bears of Brooks River" ebook from NPS to help students identify the bears and read about their stories.
Watch the Brooks Falls bear cam with your students and identify the bears you see. The bears can be seen live on the cam during the summer and early fall, typically late June through early October.
Collect your students' questions about Katmai, the bears, or the salmon run and submit them to the park by September 30, 2022. Rangers will record a broadcast answering the questions. You can also watch the video archive of ranger broadcasts from past years.
Download curriculum for grades K-12 from NPS related to science, math, art, physical education, and more that explores themes inspired by Fat Bear Week. Examples of activities include a "Salmon and Bears" game (a variation of "Sharks and Minnows") to play during PE class, a lesson focused on Indigenous art in the region, and using the contest's webcams to identify signs of a healthy ecosystem. 
More STEM Activities for Kids
For more K-12 education resources, visit NEEF's Greening STEM hub. This online collection of case studies, research, and tools helps educators implement the Greening STEM approach, which embraces hands-on, place-based education as a key to better learning outcomes and a deeper sense of environmental stewardship. Some of the lesson plans and activities focus on themes that connect with lessons learned from Fat Bear Week, such as disruption in ecosystems.
Topics