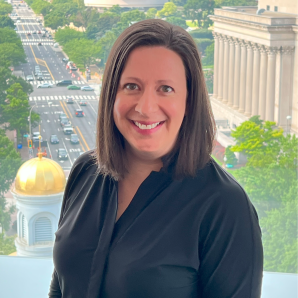 Sara Espinoza is the President and CEO of NEEF. She oversees strategic leadership, driving the organization's mission, values, and vision while ensuring effective governance and sustainable growth.
In her previous role as VP of Programs, she oversaw the design, integration, execution, and evaluation of programs and pilot initiatives focused on conservation, K-12 education, and health, as well as explored new themes and concepts in environmental education. She also tracked research and emerging trends in environmental education, identifying and disseminating promising strategies for lifelong environmental learning. Sara's other positions at NEEF have included overseeing research and innovation, designing and implementing national public engagement campaigns with NBA and NHL, and working with broadcast meteorologists across the US to incorporate environmental information into the television weathercast. Before joining NEEF, Sara worked on education programs at World Wildlife Fund and the Jane Goodall Institute. She holds a BA from Bucknell University and a Master of Environmental Management (MEM) from Duke University. Sara enjoys traveling, cooking, reading, and exploring DC neighborhoods with her rescue dog, Minnie.
Sara is located in Washington, DC.