News
Navajo Students Win NEEF's First Schoolyard STEM Lab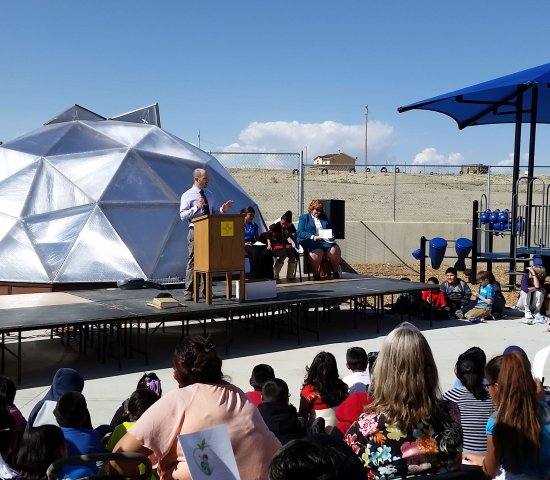 National Environmental Education Foundation and Samsung Celebrate National Environmental Education Week at Nizhoni Elementary School in Shiprock, New Mexico
Shiprock, N.M., April 22, 2015 – Samsung and the National Environmental Education Foundation (NEEF) awarded its first-ever Schoolyard STEM Lab to the students and teachers of Nizhoni Elementary School in Shiprock, N.M., today in celebration of the 10th annual National Environmental Education Week – the nation's largest celebration of environmental education.
Created by NEEF and supported by Samsung, the Schoolyard STEM Lab is an outdoor classroom space designed to work in any climate for a hands-on, immersive environmental education experience which consists of a Growing Dome greenhouse where students can apply the scientific method to cultivation projects. The school plans to have all students take part in exploring such topics as aquatic life, solar power and sustainability, conduct geothermal energy experiments, and conserve native plants and natural resources distinguished Nizhoni from the other applicants. The Growing Dome will not only help students better understand STEM, it will help them make the significant connections between the natural environment and Navajo culture.
"We are excited to award Nizhoni with the Lab. It is a solid resource that they can use to leverage the natural environment to promote critical thinking and problem-solving skills in a way that is relevant to the community," said Diane Wood, president of NEEF. "We thank Samsung for their financial support and Growing Spaces for its partnership and installation of the Schoolyard STEM Lab."
Located on Navajo Nation in northern New Mexico, Nizhoni has a vested interest in its students and the broader community. Considered a turnaround school, Nizhoni Elementary went from an F in 2012 to a B in 2013 on the New Mexico Public Education Department's School Report Cards. The school district is 100 percent Title 1 federally funded due to the high-level poverty within the communities it serves and provides free breakfast and lunch to all of its students. Despite these challenges, the school is committed to equipping its students with the necessary knowledge and skills they will need to succeed in pursuing post-secondary education and early career opportunities.
"Students at Nizhoni are eager to learn," said Principal Patsy Marquez. "We have been working hard to raise our students' levels of achievement in areas like math, science and technology. In doing so, we need to make sure that they have access to the tools that they need in order to learn. The Schoolyard STEM Lab is a great tool that we can use to accelerate student learning by introducing all of our students to the scientific inquiry process within the context of the natural environment."
"The Schoolyard STEM Lab also provides an opportunity for students to harvest their own herbs and vegetables which can be shared with the community and used by the school to prepare more nutritious meals," added Jennifer Choate, Nizhoni's gifted education teacher who submitted the winning application on behalf of the school.
The Growing Dome installation began at Nizhoni Elementary on April 17 and was unveiled today in a formal award ceremony and community-wide celebration that was joined by local and national dignitaries including Carole Palmer of the NWF Education Assistant Tribal Lands Conservation Program, Professor Arnold Clifford of Dine College, representatives from Congressman Ben Ray Luján's and Senator Martin Heinrich's offices as well as representatives from Samsung and NEEF.
"Through hand-on activities, students can better understand how STEM can be applied to everyday life and help create real change in their communities," said Lauren Restuccia, senior manager of corporate citizenship at Samsung. "We have seen the transformational effect STEM education can have on students, and we're delighted to help Nizhoni students enhance their learning this way."