Story
Explore Public Lands with Your Dog During National Pet Month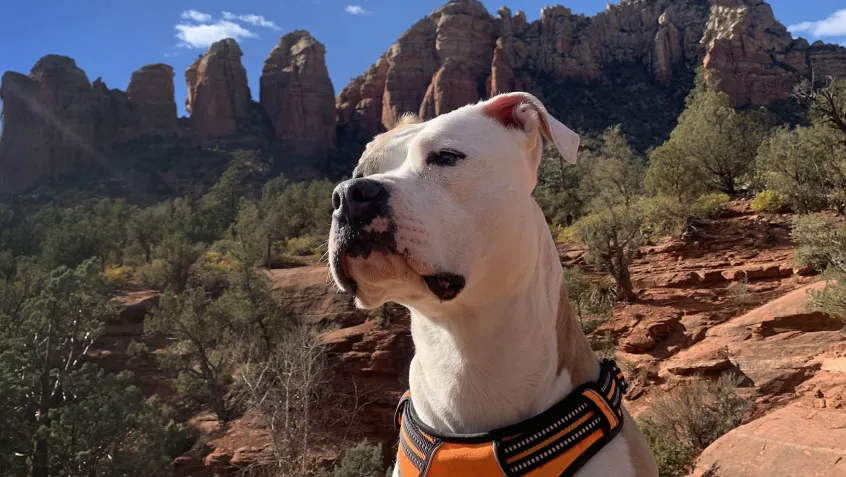 May is National Pet Month, the perfect excuse to plan a public lands adventure with your dog. But how to prepare? And which parks are best for bringing your pet along? Here are some helpful tips to ensure you have a safe—and fun—excursion.
Finding Dog Friendly Parks
Planning ahead is the key to bringing your dog with you on public lands. Different types of public lands are more accessible to dogs than others. Make sure you do your research before you start driving to a trailhead.
For example, wilderness areas, national forests and grasslands, BLM lands, and national recreation areas are more likely to be dog friendly. (But still be sure to check local rules.) National parks, national monuments, and national seashores and lakeshores restrict dogs from many trails or buildings.
Generally speaking, dogs are allowed anywhere cars can go in national parks, including developed campgrounds. It's not uncommon to see these furry friends being walked—and even enjoying a ride in a bike trailer—on the developed trails along Grand Canyon National Park's southern rim.
It's also a good idea to research national forests, such as Bridger-Teton National Forest or Coconino National Forest, which often have trails open to dogs and can be just as spectacular as more popular nearby national parks.
Each National Park Service site's website highlights where your dog is and isn't allowed to go. If you aren't sure, don't be afraid to call ahead and ask. The AllTrails app is another tool you can use to learn if a specific hiking trail is accessible for dogs.
Explore These Public Lands
Looking for some inspiration? These five iconic public lands are known for being especially dog friendly:
The oldest national park east of the Mississippi offers 100 miles of hiking trails and 45 miles of carriage roads where pets are allowed.
Take your dog boating on Lake Powell, the largest man-made lake in North America.
Dogs can explore roughly 1,000 miles of trails through some of the country's most spectacular forests. During the winter months, some snow parks here are pet friendly, too.
Pets are allowed on most of the park's 500+ miles of trails, not to mention cruising beautiful Skyline Drive.
Leashed dogs are invited to explore this park's gypsum dunes, but be sure not to leave them unattended in vehicles since daytime temperatures often get dangerously hot.
The US Department of the Interior offers more recommendations for the best public lands to visit with your dog. If you aren't able to travel far, remember that there are often green spaces close to home to explore. Check local government websites for information and rules.
Pros and Cons of Bringing Your Dog 
While your pup may seem like the perfect adventure partner, there can be drawbacks to bringing them along for the trip. You will likely be limited to certain dog-friendly trails—some parks only allow dogs on paved roads and parking lots. 
If you are an experienced hiker, you may have to alter your course to choose a less-challenging trail or slow your pace to ensure that your dog doesn't get too tired. It can be easy to overestimate your dog's abilities, even if they are a high-energy breed.  
Gear Up for Safety 
Keep your dog's health and safety top of mind while out in nature. All national parks require dogs to remain on leash for their safety. Consider using a harness to make it easier to get your dog away from danger or wildlife if needed. 
While many national forests and Bureau of Land Management lands allow off-leash hiking, check and follow the rules at each location. Regardless of regulations, it's a good idea to keep your pets leashed where predators are present and during hunting season. Uncontrolled dogs can be a danger to themselves as well as other visitors. 
Be mindful of how changing weather conditions can impact the trail. Rain can make rocks slippery. A dog can quickly overheat in weather that might not seem that warm to you. It's a good idea to pack a collapsible bowl and plenty of water to ensure that your dog stays hydrated. 
Bring some basic trail first aid in case your dog suffers an injury like a cut paw. You may want to invest in some dog booties for rocky scrambles. And don't forget to pack a dog bed for comfort and relaxation during the drive home! 
If you are planning to visit a freshwater lake or river, check the water quality conditions beforehand to be sure it is safe. For example, algae blooms during the summer sometimes result in unsafe conditions that make dogs sick after they drink it. 
Leave No Trace 
Picking up after your dog is an important part of following Leave No Trace principles while hiking with your dog. Be sure to bring plenty of biodegradable waste bags, and don't just leave a full bag along the side of the trail. Remember—like all waste, if you pack it in, you should pack it out. 
You should also practice good trail etiquette. Make a point of "pulling over" to let other hikers pass on narrow trails, and keep your dog on the trail to avoid damaging fragile ecosystems. 
Even if you're hiking in an off-leash area, don't let your dog run ahead of you and up to other people or dogs. Many dogs are friendly with humans, but reactive to other dogs. Since you can never be sure how another animal will react, be safe and keep your dog close. 
Become a BARK Ranger 
Do you and your dog really love public lands? Then consider becoming a BARK Ranger! (You can even earn a badge.) 
BARK stands for: 
B — Bag your pet's waste. 
A — Always keep your pet on a leash. 
R — Respect wildlife. 
K — Know where you can go. 
Learn and follow these simple guidelines to ensure your pet is a good citizen that helps keep the environment, wildlife, and other guests safe. The program is offered at more than two dozen NPS sites around the country. 
You and your BARK Ranger can plan ahead to participate in National Public Lands Day (NPLD), a fee-free entrance day to NPS sites and most other federally managed forests, parks, refuges, and rangelands. For more information, visit our NPLD for Volunteers page.  
Topics