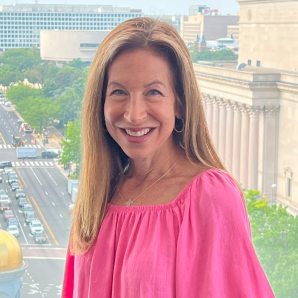 Vice President, Development
Debbie Lucci is the Vice President of Development. Debbie came to NEEF from AAUW, where she served as Vice President of Strategic Partnerships, leading a team to secure partnerships around gender equity issues from companies such as AT&T, Starbucks, Morgan Stanley, Arconic, PPG Industries, and the largest corporate grant in AAUW history from the Coca-Cola Foundation.  She also directed prospecting and cultivation of foundational partnerships, such as Kansas City Women's Foundation, Marian Apteckar, and other family and community foundations.  Prior to AAUW, she worked at the National Geographic Society, where she was Senior Director of Global Corporate Partnerships. In this role, she was responsible for generating partnership revenue and worked with brands like Google, PNC, Estée Lauder, Rolex, Royal Bank of Canada, Booz Allen Hamilton, and Southwest Airlines.  
Before working with Nat Geo, Debbie worked in partnership roles for Feld Entertainment, the League of American Theatres and Producers, SFX Corporate Consulting, the NFL Players Association, and the USA Canoe and Kayak team. She also worked in financial services for Riggs Bank, the Office of Thrift Supervision, and Deloitte.
A native of Washington, D.C., Debbie holds a BS from the University of Vermont and an MBA from George Washington University, where she also served as an adjunct professor of sports marketing. Debbie enjoys time at the beach with her husband, daughter, son, and black lab Harley.
Debbie is located in Washington, DC