News
Hip Hop and Environmental Nonprofits Drop Beats for Asthma Awareness and Health Education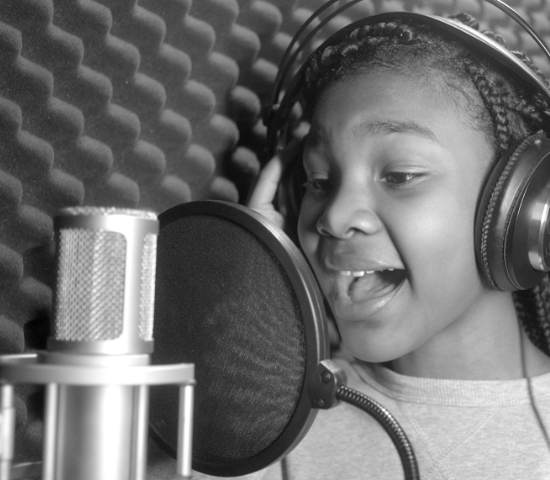 Update
As of November 15, 2023, the full EMPOWER collection is now available. Read the latest on this exciting project!
Using music to teach and inspire healthy behaviors, Hip Hop Public Health (HHPH), the globally award-winning nonprofit co-founded by renowned neurologist, Dr. Olajide Williams and hip hop icon Doug E. Fresh, has joined forces with the National Environmental Education Foundation (NEEF) to create a dynamic educational multimedia collection called EMPOWER. Comprised of eight original songs and animated videos, EMPOWER aims to inspire young people with asthma to take charge of their health with evidence-based, self-management skills.
At its core, EMPOWER embodies an acronym of the key components critical to living with and managing asthma:
Environment: Understanding its role in asthma triggers. 
Medication: The importance of regular and correct usage. 
Plan: Crafting a strategy to manage and mitigate symptoms. 
Open communication: Building bridges with healthcare professionals and loved ones. 
Well-being: Prioritizing holistic health, both mental and physical. 
Extinguish: The need to eliminate cigarettes and e-cigarettes. 
Resilience: Cultivating the strength to face challenges head-on. 
Each 60-second track and animated music video focuses on one of these elements, featuring the talents of emerging artists rapper Devin Cheff and singer Heaven White, under the guidance of multi-platinum producer and composer Q. Worthy, who co-wrote the tracks with BJ Gray and Devin Cheff.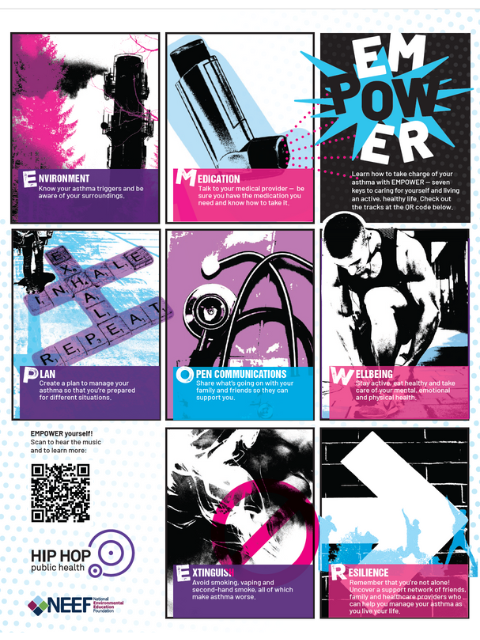 "We are honored to partner with NEEF to tackle asthma disparities using our proven model combining music, science and culture. Music is a powerful medium for public health communication, and our research shows that it can help build health literacy and inspire health behavior change," said Dr Olajide Williams, MD, MS, the Vice Dean of Community Health at Columbia University Vagelos College of Physicians and Surgeons (VP&S). 
The partnership unites HHPH's musical expertise with NEEF's 20-year history of providing pediatric asthma training and resources to healthcare providers.  
"The asthma aids created through our exciting partnership with HHPH add to our array of content, focusing on a disproportionately impacted community," said Christy Haas-Howard, MPH, RN, Health Program Director at the National Environmental Education Foundation. "With the EMPOWER tools, providers will be able to offer culturally relevant asthma education to teens, as well as their crucial support network of friends and family, to help navigate the challenges of asthma." 
Asthma affects more than 25 million individuals in the US. It's a prevalent chronic ailment, especially among young people, with more than 4 million children under 18 diagnosed with asthma. However, the burden of asthma isn't evenly distributed. The condition is most pronounced among Black adults, and non-Hispanic Black children are more than twice as likely to have asthma as their non-Hispanic white counterparts.  
 
"As young people move into their teen and young adult years, with greater independence and responsibility, taking ownership of their asthma management is essential for their health and wellbeing," said Lori Rose Benson, Hip Hop Public Health's Executive Director and CEO. "In partnership with NEEF and with input from pediatric asthma experts, we collaborated with dynamic creatives to craft uplifting and culturally relevant tracks that celebrate and affirm the power of young people."
  
The EMPOWER songs, videos and accompanying printable educational assets are accessible for free through Hip Hop Public Health's Learning Studio. The first track and video, EMPOWER Roll Call, along with a downloadable poster for educational and healthcare settings, are available now.
The remaining seven tracks and videos will be released later this fall. Medical providers, community health workers, educators, and others who work with young people can use EMPOWER resources to increase awareness about the importance of asthma management and to spread an inspiring message of resilience and empowerment when living with asthma.
The EMPOWER message is an asthma self-management resource that supports CDC's EXHALE strategies, moving the needle towards Controlling Childhood Asthma and Reducing Emergencies (CCARE).
Funding for this resource was made possible (in part) by the Centers for Disease Control and Prevention under cooperative agreement number NU59EH001254.  The views expressed in written materials or publications and by speakers and moderators do not necessarily reflect the official policies of the Department of Health and Human Services, nor does the mention of trade names, commercial practices, or organizations imply endorsement by the U.S. Government.
> Watch the EMPOWER video and download resources!
> Help spread the word about this resource with our Promotional Toolkit
> See the press coverage of Hip Hop Public Health on NBC News