News
2023 National Public Lands Day Department of Defense Awardees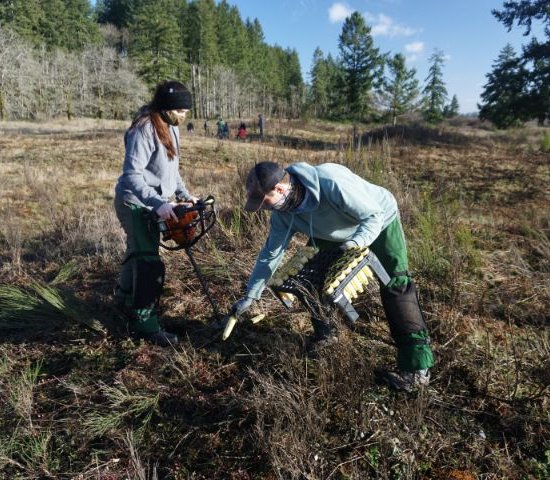 In commemoration of National Public Lands Day (NPLD), the Department of Defense (DoD), through the Office of the Deputy Assistant Secretary of Defense for Environment and Energy Resilience and the Legacy Resource Management Program, will fund NPLD projects on military lands that are open for recreation. 
This year, the DoD asked applicants to think creatively and strategically about how they can positively impact the environment and help participants to learn about these lands and their natural and cultural resources. The 2023 NPLD DoD Awards will provide up to $20,000 to selected installations to implement projects focusing on pollinator protection, climate resilience, restoration, and conservation management on or around National Public Lands Day on September 23, 2023.
Grants were awarded to the following recipients:
Bellows Air Force Station (BAFS) – Hawaii
Organizers will engage participants with the natural and cultural resources of the area by removing invasive shrubs, small trees, and herbaceous plants from around the burial vault and the Pu'ewai wetland edge; out-planting native Hawaiian plants in the newly cleared sites and providing temporary irrigation; repairing the stone fascia and preparing the burial vault for internment of iwi (bones); and removing trash along the Puhā (Waimānalo stream) edge.
Office of the Chief of Army Reserve – Fort Belvoir, Virginia
Volunteers will help replant pollinator gardens on site which were neglected due to COVID-19 staffing restrictions. Additional trees will also be planted near Truman Hall, a popular community and employee gathering space, which will provide additional valuable migratory bird and pollinator species habitat in the area.
Eglin Air Force Base – Florida
Volunteers will enhance existing pollinator habitat within the Eglin Air Force Base Natural Resources office property footprint by creating over 1,000 sq. ft. of new Monarch butterfly habitat; restoring a heavily disturbed one-acre site to emulate a natural, functioning, self-regulating sandhill plant community; and establishing a six-acre wildflower area. Afterward, visitors will enjoy birdwatching, picnicking, and walking through the longleaf plant community where they can experience and learn about native plants and pollinators.
Fort Cavazos Military Installation – Texas
The project involves the removal and maintenance of invasive/non-native plant species within the area's roughly 1.6-acre pollinator sanctuary. The sanctuary was originally created using funding from a National Public Lands Day Grant awarded to the Fort Cavazos Adaptive and Integrative Management program in 2017. Volunteers will also help with trail maintenance by removing weeds, spreading mulch, and picking up trash.
Joint Base Lewis-McChord – Oregon
Joint Base Lewis-McChord protects the last viable population of Taylor's checkerspot butterflies in Washington state. This project will restore an adjacent space for them to colonize, giving them an opportunity to expand their population. Volunteers will survey prairie, clear invasive shrubs, and prep the planting site.
Mississippi Military Department – Camp Shelby
During World War II, Camp Shelby was the second largest Army training site in the United States. After the war, the War Assets Administration removed or demolished 99% of the structures it had constructed at the site, often leaving concrete foundational piers, steps, and slabs in situ. This project's tasks will include the installation of historical markers at the sites where structures once stood within the block. Volunteers will also help plant various trees, bulbs, and shrubs at the bases of markers and throughout designated areas, as well as clean up small debris from the site. 
Idaho National Guard/Birds of Prey National Conservation Area
Volunteers will have the opportunity to engage in all aspects of native plant propagation and habitat improvement projects from seed collection, cleaning and sorting, seed tray planting, seedling care and maintenance, and plant installation on the landscape. This project will be part of a larger effort to restore a 1200-acre area of shrub-steppe habitat within the Orchard Combat Training Center and NCA that was recently impacted by fire.
Army Natural Resources Program (ANRPO) Schofield Barracks US Army Garrison – Hawaii
Volunteers will help construct an updated irrigation system for the onsite seed orchard, weed existing native plant collections, and replant some endangered species. They will also be educated on the importance of common native plants in restoration, as well as the importance of maintaining collections of endangered plants and ANRPO's current efforts in protecting those species. 
Naval Air Station Key West – Florida 
This project will restore habitat known to support the critically endangered Lower Keys Marsh Rabbit located at Naval Air Station Key West. The site consists of undeveloped wetlands located adjacent to a residential neighborhood. Volunteers will remove invasive vegetation as well as trash and other debris. Volunteers will also help prepare the site and plant native grasses and install a natural barricade approximately 200 linear feet long to prevent illegal dumping and future encroachment issues.
Joint Base Pearl Harbor Hickam (NAVFAC) – Hawaii 
Halealoha Haleamau is a traditional Hawaiian platform containing the remains of ancestral Hawaiian burials relocated from their original place of interment. Under the Native American Graves Protection and Repatriation Act (NAGPRA), this structure was constructed to protect and preserve native Hawaiian burials in perpetuity. Volunteers will remove vegetation that currently surrounds the platform, install a rock wall with a gated entrance, and restore portions of the rock platform that have undergone erosion. This wall will act as a physical barrier to discourage people and animals from entering this sacred site.