Capt. Sara B. Newman, DrPH, MCP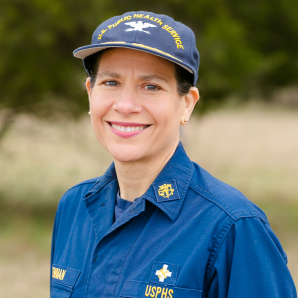 Captain - United States Public Health Service, Director - Office of Public Health, National Park Service
Sara B. Newman DrPH, MCP, is a Captain in the United States Public Health Service and has dedicated more than 25 years to working in public health positions both with the public and private sectors.  Since March 2015, Dr. Newman has served as the Director of the Office of Public Health (OPH) with the National Park Service (NPS) where she is principal advisor to the NPS Director and executive leadership for public health decisions affecting 300 million visitors in 413 parks nationwide.
As OPH Director, Dr. Newman is the NPS lead public health policy and management expert providing technical expertise to the NPS on food safety, drinking water safety, waste water and communicable diseases, infectious disease surveillance, outbreak response, and health promotion.  More recently, Dr. Newman was selected by the NPS Director to serve as the Science Integrity Officer for the NPS, handling all scientific integrity issues and allegations assigned to the NPS by the Department of the Interior.
Dr.  Newman earned her doctoral degree from the Uniformed Services University of the Health Sciences (USUHS) focusing on epidemiology and social and behavioral sciences.  She earned her Master in City Planning from the Massachusetts Institute of Technology.